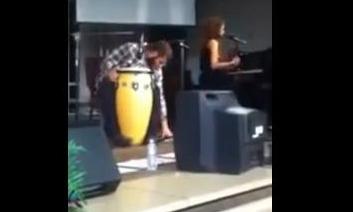 American Idol Top 40 contestant, Angela Miller, wowed the judges with a performance of her original song "Set Me Free."
Here, she sings the tune with Jonathan Miller (her brother, I'm assuming) in a venue that looks like a church.
Although the 18 year old singer instroduced the song vaguely, describing it as about being "set free from baggage," it's obvious the song is about Jesus.
There are more pre-Idol videos at Sir Mac's Top 40 preview for Angie. Click Here.
Read more:
American Idol 12 Girls Solos Poll Results, Video Recap
American Idol Season 12- Contestant Preview #5- Angie Miller
American Idol 12 Spoilers: Semi Final Round Details! Who Performs When!
I wonder, will Angela unabashedly present herself on Idol as a proud Christian artist, the way Colton Dixon did last year, or will she be less forthcoming in order to foster cross over appeal? Interesting.
Check it out here.