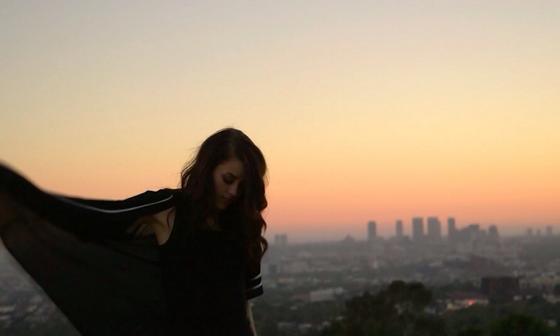 American Idol Season 12 2nd runner up, Angie Miller, announced a campaign on Thursday, to crowdfund her new record, set for release in November 2014.
The six song ep, Angie revealed on twitter, will include brand new, never before heard, original songs. She is "pumped" to enter the studio.
Some of the perks offered at Pledge Music are an invite to an exclusive LA listening party for $125, an email chat for $30, clothing and jewelry she wore on Idol  (some of these items are already gone), and even a private house show for those able to cough up $8.000! To check out the perks and make a pledge Click this PledgeMusic Link.
In a note to potential pledgers, Angie reveals that she'll be recording the songs in the next two months and uploading studio update videos, behind the scenes footage, first looks at new photos and more. She'll also be asking her pledgers advice on decisions regarding album art, poster design and more.
Additionally, a portion of the proceeds will go to a charity called Project Rescue which helps girls who are victims of sex trafficking in India. She became involved with the group while visiting the country on a family trip.
In a video intro posted on the pledge page, the singer admits that her post-Idol expectations were unrealistic. As dramatic music swells against an LA sunset, Angie explains, that in reality, she still had so much to learn about herself and her music. Finally, after a year of self-development, she is VERY excited to release new music. In fact, she turned down a label deal to release her stuff independently. After a day and a half, Angie has reached 17% of her goal.
Watch the video, including a new song sneak-peek below.
Pre-Orders are officially up!!! Head over to my @PledgeMusic page to watch the video and get tons of info :) http://t.co/y9toRLiqa2

— Angie Miller (@angiemiller) August 28, 2014