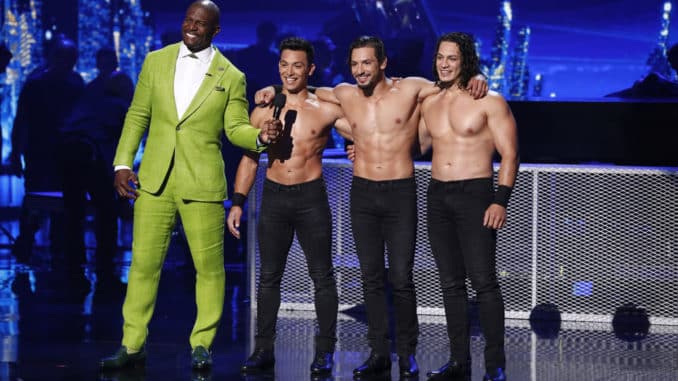 America's Got Talent's 1.4 rating in the key 18-49 demo is even with last week's preliminary numbers. However, last week, AGT ratings rose 1/10th of a point in the afternoon update to a 1.5. We'll see if the same happens when the update comes out later today. Watch this space.
America's Got Talent kicked off their live shows last night. But the start of a new round did not give the series a lift in the ratings. The America's Got Talent Wednesday live results shows begin tonight. Also, Songland returns to the schedule, on a new day and time, after a 5 week hiatus. Will the show's ratings suffer as a result?
Via TVByTheNumbers
8 p.m.
America's Got Talent (NBC) (8-10 p.m.) 1.4/7 9.01
Bachelor in Paradise (ABC) (8-10 p.m.) 1.2/6 4.07
NCIS (CBS) – R 0.5/3 4.45
Spin the Wheel (FOX) – R 0.4/2 1.58
Pandora (The CW) 0.1/1 0.61
9 p.m.
FBI (CBS) – R 0.4/3 3.93
First Responders Live (FOX) 0.4/2 1.70
Mysteries Decoded (The CW) – P 0.1/1 0.48
10 p.m.
Bring the Funny (NBC) 0.7/4 3.71
NCIS: New Orleans (CBS) – R 0.5/3 4.05
Bless This Mess (ABC) – R 0.4/2 1.66
10:30 p.m.
black-ish (ABC) – R 0.3/2 1.35