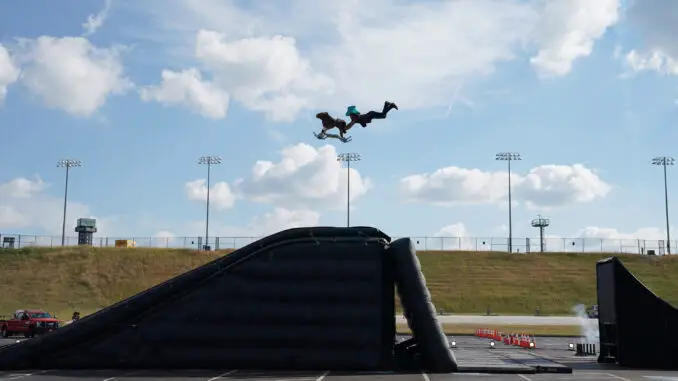 AGT: Extreme taped in front of a studio audience at the Atlanta Motor Speedway, and later, after the NBC paused production after a horrific accident during rehearsal, at the Irwindale Speedway in California. 
Sitting on the judges panel alongside creator Simon Cowell is motocross legend Travis Pastrana and WWE wrestler and reality star, Nikki Bella. Terry Crews hosts.
The show's format is similar to regular flavor AGT: The acts audition, at least two yeses sends the act to the next round. However, at home superfans will vote whether an act goes through to the final. Additionally, the Golden Buzzer is in play. Recipients will go straight through to the finale. The winner takes home $500,000.
The Contraption Kings – Ages 27-33 – BMX Athletes
They are a quintet of BMX athletes who love to push the limits. "We are not very good at self regulating" one of them says. Each group member has suffered terrible broken bones and teeth. "We are professional crashers." OK then. Oh geez. They work for Travis' company. One of them is his son's Godfather. He can't vote. AGAIN. 
Today, they will be attempting a 50ft ramp drop into a 45 ft. jump. So, they aren't necessarily riding bikes. The first guy drives a tricked-out jet ski. He sails over the ramp and lands in one piece. The next guy drives a tricycle. He flips in the air before landing safely. It's all very silly. The next guy rides a scooter, and the next guy rides a recliner chair. Now the name makes sense. And finally, a toy bull for children goes sailing through the air. The rider jumps off the seat, holding on the the handlebars. Kids would love this.
Simon calls them likable "Genuinely one of my favorite acts." Unbelievably, Travis thinks one of them should have crashed to prove how dangerous it was. WHAT? These people are crazy. 2 yeses, one abstain
Hunter & Lillian – 24 & 90 – Motorcycle stuntman & Retired
Hunter's Danish grandma accompanies him to his audition. She's his biggest booster. So big, she's joined the act. She wants to do crazy stuff too. "I'm ready, I want to go go go." Danger grandma! What a gimmick. She's 90 years old! Simon gives Grandma a hug, at her request. It's raining in Georgia (or California?) and everyone looks cold. 
The two will be attempting a motorcycle smash through walls of fire. Travis says the rain makes the stunt very dangerous. Hunter drives his motorcycle with granny on the back through several walls of fire. Considering the availability of fire retardent, it's not that impressive. If not for grandma, the stunt would have been a nothingburger.
Bella call gram a "bada**". Travis has nothing but respect for how they handled dangerous conditions. "Amazing" said Simon. 3 yeses
It's Simon's and Travis' birthday. Bella has a cake for them. That means it's October, before everything went to heck. A Royal Guardsman brings in a special UK themed gift for Simon. 
Diako Diaby – 27 – Professional Inline Skater
He grew up in Paris and didn't have a lot of money. At 20 years old, his mom gave him a pair of inline skates, and his life changed. He wants to give mom a good life. Inline skating isn't popular in France. He's one of only 3 people who can do the trick he will attempt, the Flat 900. He's only able to practice at competitions, which is crazy. 
He pulls off the stunt, which is a series of flips on a tricky ramp, over and over again. Travis looks impressed. He ends with the big trick, which involves a triple flip, like an ice skater! Pretty good.
Simon was bored by the act. That's kind of stupid. What he did was really hard. Nikki, however, was super impressed. "It impressed me," says Travis. "You inspire me. I think your style is what action sports is all about." Take that, Simon. The other two convince him to say yes. – 3 yeses
Jade Kindar-Martin – 47 – High Wire Performer
Jade is a high wire walker. He started at 14 at camp. He immediately took to it. His wife just wants him to be careful. He'll never stop. He hopes to inspire his children. He does not use nets or highlines. He's added extra added danger, with the help of his brother. 
He'll be walking on a 5/8ths inch cable with no safety measures. Hoo boy. The high wire is on FIRE! This is impressive, because he can't even see the wire clearly. The balance stick he wields is huge, though. He holds it over his head. Then kneels down half way across. At least the fire turned off to allow him to see what he's doing. One foot up and he's dancing. Next, he picks up a bicycle, and rides across the flames, holding his pole. He stops half-way across and balances himself. 
Simon think it's the most difficult thing he's seen so far, and declares that he's happy the act was dangerous. Travis calls it both intense and inspiring. He's impressed that he didn't oversell his act. Nikki calls it "entertaining" and "unexpected." Simon agrees. "What you did is probably the most dangerous act we've seen this season." – 3 yeses
Flying Royals – 21-41 – Trapeze Artists
The 8 member team do criss-cross flying trapeze. It's way more dangerous than regular trapeze. In fact, they are the only flying trapeze act that work on a quad rig. One of them is pregnant, and won't be flying today.
Simon admits that trapeze bores him. Of course, this act is super-charged. If the timing is wrong, they could crash into each other. Uh oh. Somebody falls. There is netting, at least. Simon still looks bored. There is a ton of flipping and flopping. They dismount one by one onto the net. 
Bella praises their athletic ability. She loved the flips and tricks. Travis appreciated that they took risks and went big. Simon stayed bored. He thinks they all seem the same, and lack personality. He says no. Travis and Bella say yes. – Two yeses, one No
Danny ZZZZ – 51 – Escape Artist 
Danny does "crazy things" for a living. He doesn't get an intro package, but he describes being a proud father of five. He lost his 22 year old son this year. His name is Mason. "My family is in my heart." 
He'll be attempting a 1 minute escape from 140 ft in the air. He's chained up with a ton of locks, and locked into a mailbag. That's before he's lifted high into the air by a crane. If he doesn't escape, he'll fall to the ground. At the end of the countdown, the box smashes to the ground, but he's not in it. He's free from the chains, still hanging in the air. 
Travis calls it an "emotional rollercoaster…on the edge of my seat." Nikki calls it crazy. She remarks on his unconditional love for his son. "Everyone will know Mason's name." She gives him a hug. Simon also felt many emotions. He was scared when the box crashed. – 3 yeses
Alfredo Silva's Cage Riders – 24-55 – Stunt Performers – Terry's Golden Buzzer
He's been on AGT before with his knife throwing act, Deadly Games. But he loves cage riding the best. He's been riding with his best friend for years. "We do everything to be safe, but there's always a risk." He's the third generation of cage riders, and leads a five member team.
He will mix two dangerous cage riding stunts into one. The crew wipes the humidity off the ramp before the stunt begins. The conditions aren't great. The act begins in a literal metal cage, as the riders drive around the sides at high speeds. Meanwhile separate riders drive over the cage onto a ramp. Next, Alfredo climbs into the cage and stands still as the riders drive circles around him on the walls. It looks pretty dangerous. The act concludes with three motorcycles racing around the walls of the cage, while motorcyclists flip over the cage. And there is pyro! 
"Yeah, it was alright," jokes Simon. "I nearly had 5 heart attacks!" He calls it "perfection." Travis calls it "absolutely awesome." Bella agrees. Simon exempts himself because he knows them. What? Some acts have been on AGT several times. That's dumb. But, it's only a pretext for TERRY TO PUSH HIS GOLDEN BUZZER.
The show ends with a tribute card to the late Jane "Nightbirde" Marczewski the AGT singer-songwriter, Simon's Golden Buzzer, who recently passed away from cancer.