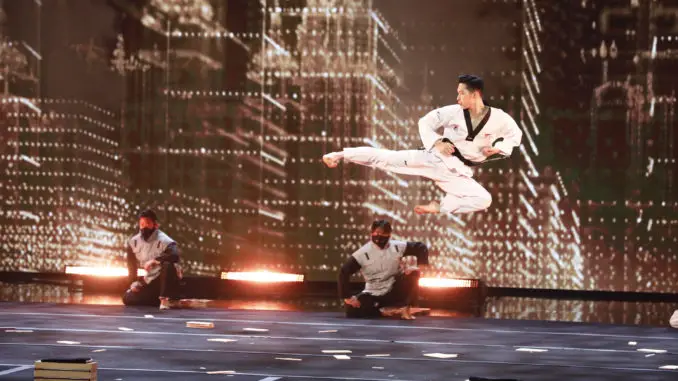 The America's Got Talent 2021 Top 10 Finalists perform LIVE  for YOUR votes tonight at the Dolby Theater in Los Angeles. The acts are vying to win it all, including a $1 million prize and a headline slot at the AGT residency at the Luxor in Las Vegas this fall.
The acts will perform in front of the America's Got Talent judges Simon Cowell, Howie Mandel, Heidi Klum and Sofia Vergara and host Terry Crews.
America's Got Talent FINAL Power List: Contestants Ranked!

TO VOTE: Go to NBC.com/AGTVote and/or via the "AGT" App (available through Google Play and on the App Store). Limit is 10 votes per act per email per each voting method. How to Vote Voting Faqs.
Tomorrow night (Sept 14) a winner will be crowned at the end of a two hour star-studded finale.
America's Got Talent 2021 Reveals Finale Guest Performers
Jimmie Herrod – Sofia's Golden Buzzer
Jimmie says his experience on AGT helped with his confidence. UNTIL he ended up in DANGER during the Semifinals. But winning the Instant Save brought his confidence back. This week he's playing it very safe singing a talent show staple, "What a Wonderful World." He's performing first and really has no chance of winning at this point. Jimmie is an interesting singer who always puts a creative twist on a familiar song. But his feminine voice is probably not everyone's cup of tea. Despite the ordinary song choice, he delivers a dramatic and superb performance. He'd be a perfect Vegas act, I think. The big finishing note is perfect!
"America's going crazy for you," Sofia says, "I'm so proud of you." Howie calls him a classic. "I never heard a voice so pure," he says. Heidi calls him a class act worthy of 1 million. Simon thinks the scare gave him his power back, allowing him to deliver the "big diva power note." 
Next, it's a video clip recapping the entire season. 
Lea Kyle – Quick Change Magician
Heidi's Golden Buzzer – Lea started off as a quick change artist. But after meeting her boyfriend, a magician, she incorporated magic into the act, and her life changed. This time, Lea performs in front of an art theme, that included portraits of the judges. Something new….a hula hoop. And then she's done. That lasted about 30 seconds. Or felt like it did. Heidi calls today "the best" Yes or no, she shoults. NO. Sorry. The performance was way to short to have an impact. Sofia agrees with Heidi, calling Lea super creative. Simon calls it too quick. YES. It's like she ran out of tricks. He calls her the best quick change artist in the world, however. Howie agrees with Simon. 
Simon mentions his Golden Buzzer act Nightbirde, who had to drop out of the competition before the Quarterfinals. He says that despite the return of her cancer, she's doing  better. Simon is sure she would be in the final tonight. And I agree with that. She was a definite contender.
Victory Brinker – Kid opera singer – Group Golden Buzzer 
The 9 year old singer is dressed in a very grown up gown tonight. She looks so pretty. But her rendition of "Ave Maria" sounds wobbly, as if she's very nervous. Victory has had issues with pitch throughout the season. Hopefully with a higher profile, her parents can invest in some first class training for her. Simon insists that tonight she was in a "different league" and better than her audition. He says she has "the X Factor." Now he thinks she has a chance to win. Nope. She does not. Sofia agrees with Simon and compliments her dress. Howie calls Victory inspiring because she found her passion at 7 years old. "You're a star" he says. Heidi notes that she looks and sounds like a winner. "Perfection," she says. 
Gina Brillon – Comic 
Gina wants to be the first comic to win AGT. And the first Latina and mom. This week it's marriage jokes. Her style continues to be laid back, with a few chuckles here and there. Howie calls her great and funny. He fits in a mentions that the great comic Norm MacDonald died today (RIP). Sofia loves that Gina is so comfortable on stage, and so relatable. Simon thinks the comedy category on AGT is hard. He wants to know what winning means to her. "Making history," she says. 
World Taekwondo Demonstration Team – Martial Arts – Terry's Golden Buzzer
One of the members cries as he talks about his late dad who signed him and his brothers up for Taekwondo training. The group has elevated their act this week with dramatic staging. Members enter  from behind the judges desk, which is startling! Whoa.  And, as usual, there are the high jumping kicks, followed by amazing tumbling. The mics are set up to pick up sounds of the breaking wood. A camera circles them ON STAGE which is pretty cool. Howie calls it the best act of the night. I agree–It was the group's best outing of the season. Heidi calls them "SO EXCITING!" and shouts "It's so insane what you do," followed by a SCREAM. Simon calls it "bloody brilliant" and said he was bored of them before. Sofia wants to produce their movie. "You guys are amazing." 
Aiden Bryant – Hoop Aerialist
P!nk's Grammy hoop performance inspired him to learn the craft. He's completely self-taught. This teen is really good and has an impressive backstory. No matter what happens tonight, Simon should invite him to perform at the AGT Las Vegas residency. He could actually win, though. Simon is so impressed after the performance, he stands on the desk. It's an EXTRA EXTRA standing ovation. "I don't think a standing ovation was big enough…you are unbelievably talented…this was one of the best live performances I've ever seen. Heidi is proud of what he's accomplished. Sofia says, "You are spectacular." Howie liked his last routine better. Actually, I agree. But tonight was also excellent. 
Brooke Simpson – Singer
In her video package, Brooke watches indigenous family and fans say how proud they are of her, and that finally they feel represented. In her performance of "White Flag" by Bishop Briggs, Brooke makes sure to throw in a big note right off the bat. Simon complained last time that the first half of her song was underwhelming. This gal has nerves of steel. She's determined, takes the stage and delivers a superior performance every time. Her consistency and smart, contemporary song choices give her a chance to actually win. She finishes by dropping the mic. Sofia says Brooke raised her game "it's my favorite that you've done." Simon agrees. "Everytime you come on this stage you give every ounce of your soul and talent." He says, "You've given yourself a chance to win." Howie agrees. "I think America is going to love you." Heidi thinks she's amazing.  Brooke says her tribe, and the next generation inspires her.
Dustin Tavella – Magician
In his video package, Dustin talks more about adopting his little boys. This time, his act is built around his parents difficult marriage. His dad got sober, it seems, and their marriage survived. He wants to remind the audience that they are all magic! The sentimentality in his act does most of the heavy lifting, the magic not so much. His act annoys me, it's so cloying. Yes, I'm horrible. Simon calls Dustin an "amazing storyteller." He believes Dustin will be one of two people standing on stage tomorrow. So, is he predicating he'll be the runner up? Howie thinks, however, that Dustin can win the whole thing.
Josh Blue – Comic
Josh confesses that his body is breaking down faster than a normal body would because of Cystic Fibrosis. In his 40s, he's in pain a lot. Nevertheless, he loves what he does so much, he can get through the physical pain. This time, Josh is cracking jokes about his involuntary shaking, and it's pretty funny. Josh is good at working in the moment, and reacting to the audience. Better than Gina, who mostly sticks to a memorized script. He's the funnier of the two. Heidi says he was definitely even "naughtier" this week.  And we've run out of time for judges comments!
Northwell Health Nurse Choir – Howies Golden Buzzer
Oh for sure, a choir made up of front line nurses is uplifting and speaks to these frightening times. The health care folks are heroes. But having said that, it's no reason for them to walk away from a talent competition with a $1 million dollar prize. There are a couple of decent solo singers. The backing choir is OK. But not great. Sofia calls them an "inspiration." Heidi says, reasonably, that the group will walk away with 1 million thank yous tomorrow. Simon says he will never forget tonight. He loves their message and story. "You could win this," he says. Howie thinks they deserve to win and WILL win. No. The backstory isn't enough. An act with talent and show business aspirations should win the prize.