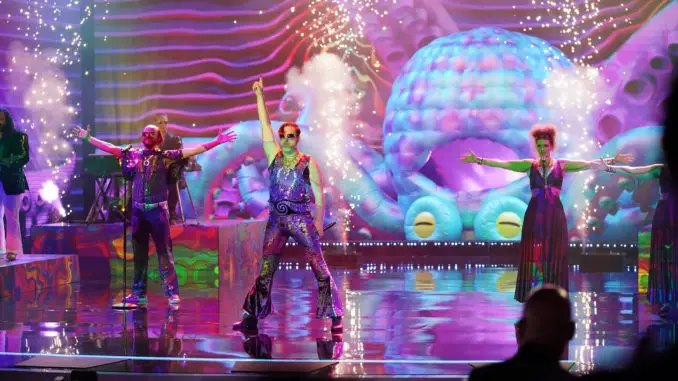 America's Got Talent 2021 airs the Quarterfinals SECOND RESULTS show tonight. After last night's performance episode, Seven acts will advance to the semifinals. Five acts will go home. Viewers will have the opportunity to save an artist on the bubble. And the judges panel will save another.
In other words, Five acts go straight through to the semis. The 6th, 7th and 8th place finishers will be up for the save. The highest vote getter of that contest advances. The judges save one and one goes home.
In between nail-biting results, America's Got Talent 2019 winner Kodi Lee will join forces with R&B artist H.E.R to sing "Hold On." Also, season 11 mentalist duo, The Clairvoyants will perform.
You voted in last night's poll for your favorite performance, and also predicted who would leave the competition.
Aidan Bryan is at the top of your favorites list. I wasn't quite expecting that. But come to think of it, the pickings were slim last night. Simon Cowell slammed them, but nevertheless, you placed the singing group T.3 in 3rd place.
Johnny Showcase got 19% of the "should" go home vote. He's the Sethward of Quarterfinals week 2! Once again, your bottom 5 is pretty much my bottom 5, although Tory Vegasy could wind up going home, 
My Prediction:
Johnny Showcase, Shuffleution, Positive Impact, T.3, Dokteuk Crew will leave the competition tonight. Tory Vagasy could be a surprise elimination.
America's Got Talent 2021 Quarterfinal 2 – Favorite Performance
Aidan Bryant – Aerial Act – 19.69%
Josh Blue – Comedian – 18.11%
T.3 – Broadway Vocal Group – 16.54%
Peter Antoniou – Mentalist – 14.17%
Victory Brinker – (Group Golden Buzzer) – Kid Opera Singer – 8.66%
Tory Vagasy – Broadway Singer – 7.09%
Northwell Health Nurse Choir – Howie's Golden Buzzer – 7.09%
Korean Soul – Vocal Group – 6.3%
Johnny Showcase – Retro comedic singer = 0.79%
Shuffolution – Dance Group – 0.79%
Positive Impact – Acrobatic Group – 0.77%
Dokteuk Crew – Dance crew – 0%
America's Got Talent 2021 Quarterfinal 2 – Which 5 SHOULD Go Home? (Choose 5)
Johnny Showcase – Retro comedic singer – 19.22%
Shuffolution – Dance Group – 16.41%
Positive Impact – Acrobatic Group – 13.39%
Dokteuk Crew – Dance crew – 12.31%
T.3 – Broadway Vocal Group – 9.07%
Northwell Health Nurse Choir – Howie's Golden Buzzer – 6.26%
Korean Soul – Vocal Group – 5.4%
Victory Brinker – (Group Golden Buzzer) – Kid Opera Singer – 5.4%
Tory Vagasy – Broadway Singer – 4.32%
Peter Antoniou – Mentalist – 3.89%
Josh Blue – Comedian – 2.38%
Aidan Bryant – Aerial Act – 1.94%
America's Got Talent 2021 Quarterfinal 2 – Which 5 WILL Go Home? (Choose 5)
Johnny Showcase – Retro comedic singer – 19.74%
Shuffolution – Dance Group – 17.6%
Dokteuk Crew – Dance crew – 16.31%
Positive Impact – Acrobatic Group – 14.16%
T.3 – Broadway Vocal Group – 12.02%
Tory Vagasy – Broadway Singer – 6.01%
Korean Soul – Vocal Group – 3.43%
Victory Brinker – (Group Golden Buzzer) – Kid Opera Singer – 3%
Peter Antoniou – Mentalist – 2.58%
Josh Blue – Comedian – 2.58%
Northwell Health Nurse Choir – Howie's Golden Buzzer – 1.72%
Aidan Bryant – Aerial Act – 0.85%