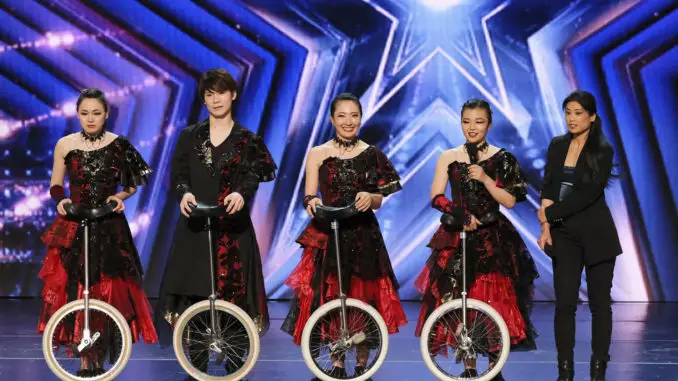 America's Got Talent continues on NBC tonight with Simon Cowell, Howie Mandel, Heidi Klum and Sofia Vergara on the judges panel. Terry Crews hosts. See the new acts vying for the 1 million dollar prize.
America's Got Talent 2021: Naked Towel Dancers Entertain Judges (Video)
America's Got Talent: Drag Queen Teaches Young Girls to Slay (Video)
America's Got Talent 2021 Auditions 2 Spoilers – Meet the Acts (Photos)
LOOK as Simon waves at the FAKE AUDIENCE.  He announces the America's Got Talent residency at the Luxor Hotel in Las Vegas, opening this fall.
Beyond Belief – Tween Dance Troupe
This Mesquite, TX tween dance outfit is helmed by Justin Johnson aka RuPaul Drag Race star, Alyssa Edwards. The troupe was the subject of the 2018 Netflix doc Dancing Queen. NBC previewed this audition a few days ago. Alyssa notes the support she receives in Mesquite. She's all about instilling confidence in young dancers. The girls aren't incredible dancers, but the routine is so much fun. The girls look like they're having a ball. STANDING OVATION FROM THE TOTALLY FAKE CROWD. Simon calls the act "sensational." Oh man. The older red-headed singer battles spina bifida. Justin and her teammates keep her going. Sofia calls it "out of this world." Howie calls them "fierce." The little one is crying. Aw. They're so cute. – 4 yeses
Unicircle Flow – Japanese unicycle group
Described as a "Beautiful unicycle dance style, likened to "land figure skating," Unicircle Flow has history of more than 40 years in Japan and has been highly regarded in the world for its unique and fascinating style." Only 4 people are representing a 12 member group. Simon is having PTSD watching people on bikes! Tricks galore from the quartet. Pretty impressive. They are like ballet dancers on bikes. CAN YOU HEAR THEM HOW EXCITED THEY ARE Sofia says, pointing to the fake audience. Heidi loved the choreography and speed. Simon calls it "amazing" and "unique." Howie jokes that they showed how to ride a bike without falling like Simon. – 4 yeses
Larger Than Life – Boyband
From New York City, the group is pursuing pop stardom. One problem–the oldest member is 39, the rest are in their 30s. These are old men, relatively speaking. They hope to get a Golden Buzzer and hit Las Vegas. Pop music is a young person's game. This smells of desperation.  They do a Backstreet Boys/'Nsync mashup. They are mediocre and are quickly buzzed by Simon. Pitch issues NOT AUTOTUNED BY PRODUCTION. Humiliating. Go back to your day jobs, dudes. Simon should stop them. Scratch that, it was cruel to cast them in the first place. Heidi was rooting for them "but it didn't sound so great." Sofia didn't want to give them an X, but she admits it wasn't good. Simon calls them "terrible" and advises they "give it up." – 4 nos
Korean Soul – Singing quartet
K-Soul stood in the wings watching the Larger Than Life fiasco. They admit they aren't well known in South Korea. They say they want to be "pop" stars, before crooning an old school 90s hit, "All My Life." But a look at the group's Youtube–they are clearly a Christian/Gospel group and have barely dabbled in pop music. However, they are very good singers and employ beautiful harmonies. The judges give them a standing ovation. Howie says they check all of the boxes. And he wonders why Koreans are so talented. Hm. Heidi compliments their talent and fashion. Sofia calls it spectacular. Simon calls it the best audition of the day. 
Matt Johnson – Escape artist
He competed on Britain's Got Talent 2018. He seemed to nearly drown during his semi-final performance, and fans were not amused. (Watch). His wife supposedly asked him to quit after BGT shenanigans. Why is Simon not admitting he knows him? I wonder if the whole "I nearly killed myself" is part of his schtick. Matt has to wrest himself from a contraption that could cut him to ribbons. Of course, he does manage to escape, just in the nick of time. Which, I suspect, is how it's supposed to happen. Simon calls him "brilliant." Sofia calls it "insane." Heidi thinks he should listen to his wife more. Howie was SO SCARED. Matt insisted that he didn't rehearse much. But I expect that's part of the shtick too, as is the "worried wife."
With so many magicians in the mix this week, I suspected a montage. And here it is. The theme is all the AGT magicians who have landed in Vegas.
Jonio – Magician from Japan performs slight of hand and close up magic
Preston Lyford – 16 year old magician. His dream is to have a residency in Las Vegas right out of high school
Patrick Kun – Magician from Thailand
He performs card tricks, plus uses small objects like wallets and phones. Patrick is also an entrepreneur who sells the tricks of his trade. His parents didn't want him to pursue magic, so he practiced in secret. His wife is a little jelly of his career. He's from Pittsburgh! So is Sofia's husband. SO AM I. Patrick performs super close up magic at the judges table. He's slick! All four judges are blown away. Simon says once again "I do believe in magic." – 4 yeses
Johnny Showcase – Comedic Singer
He's the LEGENDARY Johnny Showcase, who seems to be a comedic 70's inspired funk/glam outfit. He's 40 years old and has been performing for 15 years. He arrives with a "spiritual adviser" and two backup singers called "The Truth." His humor is falling flat with the judges. Even the name check of Paula Abdul doesn't go well. When he finally begins to perform a song parody, the panel loves it. "We have to be sensual but not sexual because I'm married." Simon was annoyed at first, but now thinks he's brilliant. Sofia also loved the performance. Howie loves the kitsch. Heidi notes the ladies' hairy armpits. SO 70s! – 4 yeses
The Curtis Family C-Notes – Family band
This family band from San Francisco has a funky, 70s style a la Sly and the Family Stone. The parents are both music teachers. Dad thinks the golden age of music happened from the 50's-70's. They all got the cool big natural hair. The kids named their guitars after planets and such. Simon suggests one of the kids call their instrument "moon," which Howie immediately mocks. They cover Stevie Wonder's "I Was Made to Love Her." The young group exudes musicality. Good stuff. They are like the Jacksons, but without the abuse. Howie calls them superstars and a "beautiful family." Heidi loved it. She loved mama's voice. Sofia loved them too. Dad worked for Earth Wind and Fire and was the youngest member ever in the Duke Ellington Orchestra. Mom is crying, she is so proud of her kiddos. – 4 yeses
Danny Dechi – Comic
He moved to San Francisco from Argentina at 6 years old. His comedy includes elements like pencil drumming on his head, which he does here. He's quickly buzzed off the stage.  – 4 nos
Les beaux Freres – Comedy circus troupe
For their AGT audition, the duo will strip down and dance with strategically placed towels.  They also appeared on France's Got Talent a few years back. (Watch). NBC previewed this audition a few days ago. The routine is amusing,  as they come close again and again and again to losing their towels, until…OOPS. The routine is crazy and graceful at the same time. But for the AGT stage, naked towel dancing isn't new. Howie doesn't want them to "throw in the towel." har har. Heidi loved it. Sofia can't to see what else they "take off." Simon calls it very funny. – 4 yeses
Gina Brillon – Comedian
Born in the Bronx, she has appeared on a bunch of TV shows. She also tours all over the country. She grew up poor in the Bronx, but thanks to her parents work ethic, she toiled at a bunch of jobs to support her dreams. But now she's a mom. "I am here to win for my son," she says. She does jokes about her "midwest white" husband. She's Puerto Rican, and notes that she's an identical twin. Her routine is low-key amusing. She delivered that routine with no nerves. Some comics really bomb up there. Sofia loved it. Simon loves how conversational her routine seemed. Howie calls her natural, beautiful and funny. – 4 yeses
Nightbirde – Musical artist and SIMON COWELL'S GOLDEN BUZZER
Jane Marczewski, from Zanesville, OH, has battled cancer since 2020. She tells her own story HERE. She's had cancer three times, all throughout her body, and she's still fighting the disease. Obvious Golden Buzzer is obvs. She sings "It's OK," an original song about the last year of her life. She admits to the judges that she's still battling the disease, but she's so much more than her diagnosis. She's got a unique indie-like tone. She's a good songwriter too. This is sad story. The singer is only in her 30s as she battles a fatal disease. And yet, she seems to be at peace. I'm already anticipating the post I'll put up in the coming months. Howie calls her authentic. Sofia calls it powerful and heartfeld. Heidi got chills.
Simon calls her voice "stunning." She says "You can't wait until life isn't hard anymore before you decide to be happy." She stays optimistic having only a 2% chance of surviving. And of course WHO DIDN'T SEE THIS COMING SIMON HITS THE GOLDEN BUZZER.
HEADS UP: AGT is one hour next week, beginning at 10 pm ET/PT to make way for a two hour Olympic Swimming trials special.