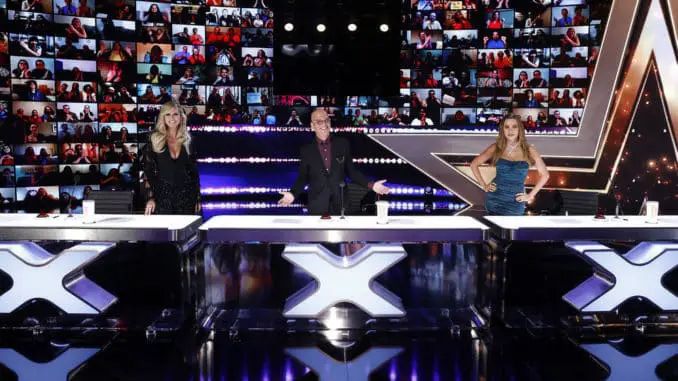 Last week's America's Got Talent results left me naming my podcast after a Britney Spears quote from X Factor USA. "Sorry, I Just Don't Get It." From my perspective, the two acts that delivered the best performances last week – Malik Dope Drummer and Shaquira McGrath – were both eliminated in favor of acts who kinda sucked but had good stories.
I can at least say I had the five acts who made it through in my top 5 last week, so I guess that's good? I did get the order wrong, but that matters less at this point (or at least that's what I'll tell myself). I put Archie Williams, who needed the judges save to sneak into the finale, at number one and said he could win the show. Never mind on that one! At this point, I think it's down to Brandon Leake or Cristina Rae.
On to this week. For those new to my power lists, I rank acts in order of who I think will make it, not who I want to make it. Having said that, my number one for either list would be the same this week. Will I get this right again? Only one way to find out.
In reverse order:
11) Bello Sisters – I was pretty shocked to see this act advance in the fourth week of quarterfinals. Their performance was fine, I think. The lights and production made it really hard to tell. I mean, it wasn't as bad as the production around Noah Epps (who was totally robbed) but it was close to that bad. They needed the judges to save them, and I think that pretty much means they are goners.
10) Kenadi Dodds – Kenadi was in the top 3 of the public vote in her episode. So why do I rank her so low? Because quite frankly, I think her making it into the top 3 was clearly not what the producers wanted. Howie tried to bus her but didn't do a good enough job. This time, I fully expect the other two judges to join Howie. If she makes it into the final, it's a miracle(?) delivered by inspiration p**n.
9) Jonathan Goodwin – Last time, he set himself on fire – sorta. I agree with MJ's theory that he doused himself with flame retardant before the stunt. A danger act has never won AGT before. I don't think one ever will either – the act is too polarizing. If I wasn't writing/podcasting about the show, I'd be fast forwarding through these acts. 90% of a danger act is describing how dangerous what the person will do is, and only 10% is the act itself. And I'm annoyed that danger acts get so much more time than comedians or other acts. I think every act on AGT should get 4 minutes, no matter what the act is. That'd be more fair. But I digress. Jonathan needed the judges to save him, and so he's a goner.
8) Celina Graves – Celina gave one of the best performances of the fourth Quarterfinal, but needed the Dunkin' save (product placement!) to advance. She's got a great voice and picked a great song, but she lacks a compelling story, and that's what you need to win on AGT. I hate that I wrote that, but I'm afraid it's true. I hope she sneaks through to the final, but I expect her to be cut this week.
7) Brett Loudermilk – Brett is the one kinda sorta comedy act remaining on AGT this year. And if he did any type of magic besides sword swallowing, he'd have a real shot at advancing to the final. Sadly, sword swallowing is too gross for many people to watch. He needed the Dunkin save to make it to the semifinal. Despite how funny Brett's shtick was last time – "I only have 3 minutes, I don't have time for your questions" was the funniest joke uttered in four weeks of live shows – I don't think he'll make it through to the final.
6) Daneliya Tuleshova – Daneliya delivered a strong performance last round. Sign of the Times was a good song choice for her. But with Roberta Battaglia already in the final, I think that unless Daneliya is in the top 3 again or gets the Dunkin save, she's going to miss out on a spot in the final. She's not bad – far from it – but the other remaining acts have been pushed more than her.
5) W.A.F.F.L.E. Crew – Simon's golden buzzer act might not have him there to push them, but I don't think they'll necessarily need that. These dancers are good. They're not amazing, at least, not if you've seen other dance acts on other shows before. But they are good and they have personality. And they have a story. And they'll be pushed by the judges. They needed the Dunkin save last time, and I don't expect them in the top 3. But if they are up for the Judges save, I expect them to get it over any other act except for Cristina.
4) BAD Salsa – Lame joke time. BAD Salsa are anything but bad. They should change their name to GOOD salsa. Sorry, I couldn't help myself. Seriously, they are the most impressive dance act remaining in the competition by a mile. They lack the personality of W.A.F.F.L.E. Crew but they make up for it with skill. They were in the top 3 last time and unless there's a major shakeup I think they'll make it to the finale.
3) Max Major – Max Major didn't deserve to make it through last time in my opinion. I'm fine with magicians bending the truth if the trick still takes some skill to pull off. But according to Reddit, he outright lied when he said everyone in the audience drew the same thing on their own accord. His trick took basically no skill to pull off and could not have gone wrong, so I found it utterly boring. Having said that, the judges went crazy over him last time, he made it into the top 3 of the public vote, and America loves magic acts. I think he's pretty much a lock for the final. I hope he earns that spot.
2) Voices of our City Choir – Terry Crews' golden buzzer act delivered a performance of Stand by Me last time. And with the exception of the one part where the guy talked and didn't sing, I quite enjoyed it. They have a story, they have talent, they have a golden buzzer, and they were in the top 3 last time. If they go home before the finale, I'd be really surprised.
1) Cristina Rae – The best act remaining in the competition and my prediction for this season's winner is Cristina Rae. She has a story, but more importantly she's a phenomenal singer with tons of raw potential. Last time, she delivered a performance of Hallelujah that I liked, which considering how sick I am of that song, is a miracle. Even if she doesn't win the show, and I think/hope she does, I'd be flabbergasted if she wasn't in the finale next week.
Do you agree? Disagree? Not care? Let me know in the comments below!