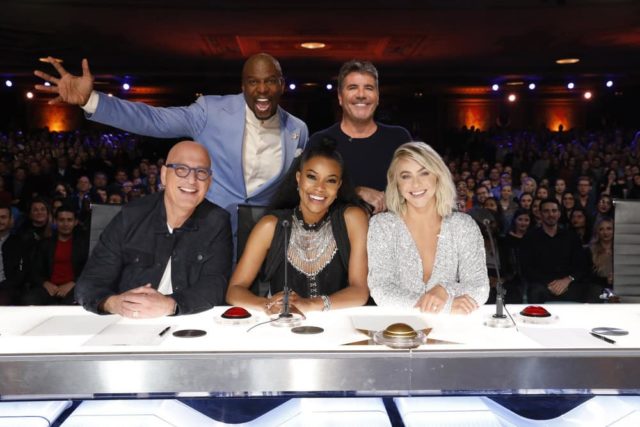 America's Got Talent taped the Judge Cuts with celebrity guest judges on April 18th, 22nd, 25th, and 28th. This season, former Tonight show host Jay Leno, country music singer Brad Paisley and The Office and Unbreakable Kimmy Schmidt actress Ellie Kemper will serve as 5th judges.  The April 25th taping featured a "SURPRISE" guest. UPDATE: The surprise judge was judge Gabrielle Union's husband, ex-basketball player Dwyane Wade. 
The Judge Cuts take place after the initial auditions. In the round, the America's Got Talent judges–currently Howie Mandel, Gabrielle Union, Simon Cowell and Julianne Hough–whittle down the number of acts to around 36. Those lucky enough to receive a Golden Buzzer from one of the judges or host Terry Crews during the audition phase can skip the Judge Cuts altogether.
UPDATED 7/10/2019
So far, five acts have received a Golden Buzzer and secured a place in the live shows, which begin Aug. 13 at the Dolby Theatre in Los Angeles. Those acts include kid singer Luke Islam (Julianne Hough), Detroit Youth Choir (Terry Crews); young violinist Tyler Butler-Figueroa (Simon Cowell); singer Joseph Allen (Howie Mandel), singer Kodi Lee (Gabrielle Union).
When Does America's Got Talent Live Shows Start? FULL Season 14 Schedule
During the Judge Cuts round, the Golden Buzzer stays in play. Each guest judge will have their own Golden Buzzer to share with an act that they feel should go straight to the live shows. The act who receives a Golden Buzzer does not skip any rounds, but they are spared the indignity of standing on stage, awaiting their fate in front of the panel.
Now that the America's Got Talent 2019 auditions are over, NBC has OFFICIALLY unveiled the guest judges! Here is the schedule for when Brad Paisley, Dwyane Wade, Ellie Kemper and Jay Leno will appear on the show: 
Judge Cuts
Tuesday July 16 – Judge Cuts 1 (Brad Paisley Guest Judge) – 8-10 PM ET/PT
*Sunday July 21 – Judge Cuts 1 (Brad Paisley Guest Judge) (R) – 8-10 PM ET/PT
Tuesday July 23 – Judge Cuts 2 (Dwyane Wade Guest Judge) – 8-10 PM ET/PT
*Sunday July 28 – Judge Cuts 2 (R) (Dwyane Wade Guest Judge)  – 8-10 PM ET/PT
Tuesday July 30 – Judge Cuts 3 (Ellie Kemper Guest Judge) – 8-10 PM ET/PT
*Sunday August 4 – Judge Cuts 3 (R) (Ellie Kemper Guest Judge) – 8-10 PM ET/PT
Tuesday August 6 – Judge Cuts 4 (Jay Len0 Guest Judge) – 8-10 PM ET/PT
*Sunday August 11 – Judge Cuts 4 (R) (Jay Len0 Guest Judge) – 8-10 PM ET/PT
Check out the official photos: