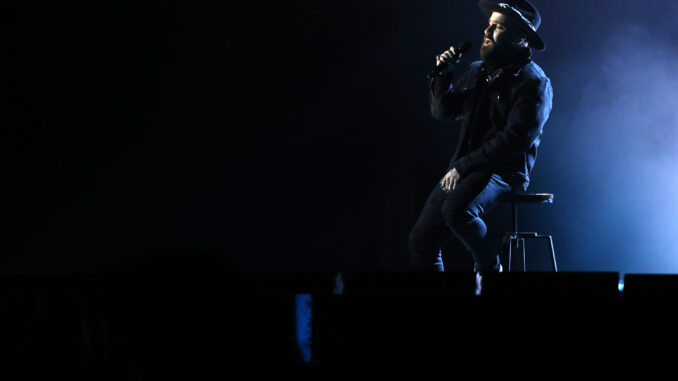 Happy Monday everyone! Ashley here, and I'm excited to be back live-blogging the premiere of American Song Contest!
Tonight's live premiere begins with 11 Qualifiers, from 11 different states/U.S. territories, each singing an original song. One song will be crowned the night's winner at the end of the episode. Next week's show will begin with three winning songs from tonight's show being announced.
Voting is conducted by a jury representing all 56 states, territories and Washington D.C., but fans will have the opportunity to vote as well! Fan-voting takes place online, on TikTok, and on the NBC app. Full voting details can be found HERE.
We begin with our hosts Snoop Dogg and reality singing competition vet Kelly Clarkson welcoming us to the show.
Kelly announces that the singles heard on tonight's show can be listened to wherever you stream music.
Yam Haus – Minnesota – Ready To Go
Yam Haus' postcard package shows the band talking about their home state of Minnesota, bragging about their almost-10 million Spotify streams, and explaining the meaning of Yam: you are me.
Yam Haus are separated on to four different platforms during their performance, the lead singer being joined by a handful of dancers halfway through. "Ready To Go" has a dancey pop-rock sound, like Glass Animals meets Vampire Weekend.
AleXa – Oklahoma – Wonderland
AleXa jokes that you wouldn't expect a K-Pop star to come out of Oklahoma, and introduces us to her parents; her mother from Korea and her father from New York. AleXa says she wants her performance to show people the passion to chase their dreams.
AleXa's performance starts out theatrical, with about a dozen background dancers and images of roses, buildings and playing cards on the screen behind them. "Wonderland" is upbeat and catchy, like a typical K-Pop song but with a more memorable pre-chorus. The performance ends with AleXa falling (purposefully) backward off a staircase and disappearing from our view.
Kelsey Lamb – Arkansas – Never Like This
Kelsey reveals that Little Rock is more of a small town than a big city, despite being the capital. She also introduces us to cheese dip, that's famous in Arkansas, and considers her sound to be a mixture of Blake Shelton and Avril Lavigne.
"Never Like This" was written by the newly-wed about finding the perfect person, and Kelsey performs it wearing a cowgirl hat and surrounded by flowers. Both the song and Kelsey's voice are very Taylor Swift-esque, and offers a beautiful country ballad about falling in love.
After the break, Kelly talks with Yam Haus in the audience, who says they're excited they're finished so they can be in "party mode."
UG Skywalkin – Indiana – Love In My City
UG informs us that UG stands for his home country of Uganda, and after traveling all over the world with his family, they ended up in Indiana. Before his father's passing, he told UG to live the American dream. "Love In My City" is about UG's love for his home city of Indianapolis.
This performance is HOT, and not just because there's fire behind them! "Love In My City" features UG rapping about his love for his city with some fun dance moves, but I honestly can't take my eyes off his big, orange bubble coat.
Christian Pagán – Puerto Rico – Loko
Christian shows us around where he grew up in Puerto Rico, he beautiful beach and mountains. Christian has been #1 on the Latina Pop Billboard Chart.
That performance was like watching a Ricky Martin concert, and I mean that in the best way possible! "Loko" includes a mix of Spanish and English, and it's going to be pretty hard to forget this song when big letters spelling out LOKO blinked behind Christian throughout the performance, as well as the Puerto Rican flag before the final chorus.
Christian receives the loudest applause yet, and Kelly and Snoop Dogg bring us to commercial with a piña colada and waving a Puerto Rican flag.
We come back from commercial for what they call a halftime report by Kelly and Snoop, where they talk in football-esque terms about the last five performances.
Michael Bolton – Connecticut – Beautiful World
Michael takes us to a pizza place in his home state that has his album hanging on the wall, then shows us the house where he grew up in New Haven.
I'll admit I was a little confused to see an accomplished singer-songwriter part of the lineup. The song felt a little like I was watching our new American Idol winner, like there should have been confetti falling. But lyrically, it was pretty good.
Alisabeth Von  Presley – Iowa – Wonder
Elizabeth's shows us in her "postcard" package that she has a favorite color: pink piano, piano couch, pink hair. Elizabeth introduces us to her cute coffee shop and reveals she has four albums currently.
I can't decide whether this girl is the next P!nk or the next Demi Lovato. Maybe she just sounds like P!nk singing "Confident" by Demi Lovato. Alisabeth, decked out in pink, described this song as "girl power," after all. Halfway through, Alisabeth shocks the audience by whacking out a keytar, then shooting a rock and roll hand gesture to the crowd.
Jake'O  – Wisconsin – Feel Your Love
Jake'O's package makes a lot of cheese jokes, then shows us his beautiful, blue guitar, and says he wants to represent some good people.
This performance was basically what it would be like to see Elvis Presley perform in 2022. Jake'O's got a funky, catchy song, with the hair, suit, and moves of Elvis. the background vocals honestly added a lot to the sound,  giving it a little extra oomph.
Keyone Starr – Mississippi – Fire
Keyone introduces herself as being in the music business since 2014, and tells the story of when she was discovered by Mark Ronson. "Fire" was written by Keyone about overcoming trials, and represents Mississippi with its church flavor.
The vocals started out rocky but came in strong for the chorus. The song had an unexpected rock element to it, and Keyone proved she is full of energy. P.S. can we talk about that Elton John look-alike playing guitar?
Ryan Charles – Wyoming – New Boot Goofin'
Ryan appears in his "postcard" package wearing a cowboy hat and boots, then reveals in a twist that he's a rapper from Wyoming. He shows us around a bar in Buffalo, WY, then demonstrates for us his love of boots – fittingly, since his song is all about boots.
A rapping cowboy surrounded by glowing neon boots is certainly… original. The song was fun; your typical rap. By the end, I still didn't know what "new boot goofin" even meant though.
Hueston – Rhode Island – Held On Too Long
Hueston shows us a rougher part of Rhode Island, telling us about his tough childhood in front of a wavy beach.
Hueston receives cheers during his first note, performing the slow ballad he dedicates to the hardworking people of Rhode Island. I agree, it's very Adele-esque, gorgeous notes meeting a beautiful backing piano.
The 56 jury members vote for their winning song. The winner is… "Held On Too Long" by Hueston from Rhode Island!
Thanks for joining me for premiere night! I'll be back next Monday when we'll see 11 more Qualifiers, from 11 different states with 11 new songs!