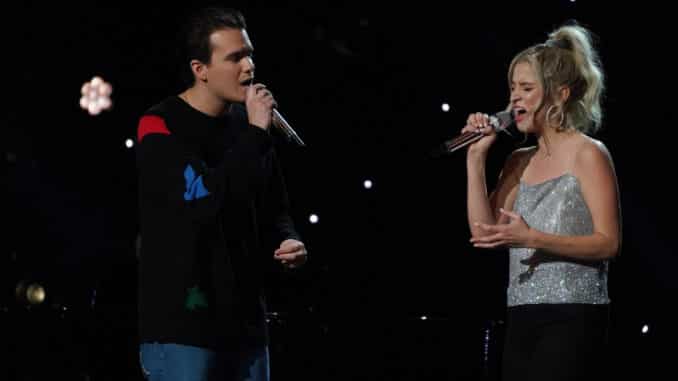 Fans had suspected that American Idol 2020 couple Margie Mays and Jonny West had broken up, but now Margie finally confirms the split in a rambly Youtube video posted over the New Years holiday.
In the 23 minute video, Margie explains that she hesitated from confirming their split, because of her own denial. Even as fans kept asking and asking. She wasn't quite ready to let go of the relationship. Also, the breakup, which happened earlier in 2020, left some hard feelings.  Margie left the competition at the end of the Hawaii showcase, while Jonny finished in the Top 5.
"Yes there was a breakup," admits Margie in the video. The person I was with on American Idol I'm no longer with…I know a lot of people had messaged me and [asked] 'can't you just address it?' Margie explains, "You just see these couples who've been in the public eye….and post a picture of each other [and say] 'We have broken up and we've chosen to go our separate ways and there's so much love and respect and kindness between the two of us. We hope you can respect our privacy.' I know that that's typically what happens," Margie says.
The breakup was not kind, it was not caring, Margie says
But then, Margie gets real honest: "The problem is, and I say this with no aggression, but just with honesty, I don't want to be a liar. The breakup was not kind it was not caring. It was not respectful. It was not loving. it was all the opposite of those words. I don't want to spill tea and the reason for that is because when you are in a relationship for years and years with someone it's not just you. It's you and that person and their family and their communities. I want to protect some of those people."
Margie explains: "It might just seem like a story to you or a set of facts, but it's my life. My life got derailed. The course of things is going to change now because of all of this. It's a really wild experience when you plan your life with someone and you name your kids and you talk about where you're going to live and you fantasize and talk about all these things and then boom."
Fans were REALLY REALLY insistent with their questions
The questions about the breakup were constant. At some point Margie needed to address them. But also, she couldn't imagine NEVER discussing it. "I try to build up this armor so that I can see the questions and not be bothered," she said. "When you see the same slew of words over and over and over, 'are you broken up to two guys break up. Are you still with him blah blah blah…'. There's been a little bit of desensitization seeing it every day for six months." But on the other hand she asks, "Am I going to die and never talk about it? Or am I going to move on and and never have addressed it? That feels odd." 
But now, she's done with talking about it: "If I could kindly kindly ask you guys to see this and hear this and as a courtesy to me just stop asking me about it."
"I'm tired of being not honest with everyone online," said Margie. "It just feels disingenuous and it just feels tiring. And I also think it's hindering me moving on because there's denial. It's sewn into the threads of denial, the blanket I'm wrapped in and I need to rip it off and throw it in the fire so I can move forward."
Margie feels like she's on the path to acceptance
"I might actually be on the path to acceptance and maybe if you guys are behind me…in a supportive way, maybe I can heal heal even more," said Margie
"I'm thankful for the tremendous beautiful change that going on American Idol did for my life.  I know I say American Idol changed my life, but I also was a piece of that. I took it upon myself to say I'm going to make sure this changes my life and changes my heart."
Margie admits, "I had never I've never been through heartbreak before. If you are going through this for the first time or especially during this pandemic. I am right there with you. I'm feeling all of what you're feeling seriously, and I love you and you are so not alone."
Jonny's new song seems to be about the breakup
What brought the questions to the forefront, probably, was Jonny dropping a new song in early December, "All the Words" which appeared to be about the breakup. 
The chorus goes: "I play your messages out loud/just so I could hear your sound/driving by this place we found/now I want to burn it down/Honey I can't bear to lose/so I'll search through all our tunes/until I find all the words I say to you."
He recently released a lyric video for the emotional song. Likely, it's the only statement he'll make about what happened between them.