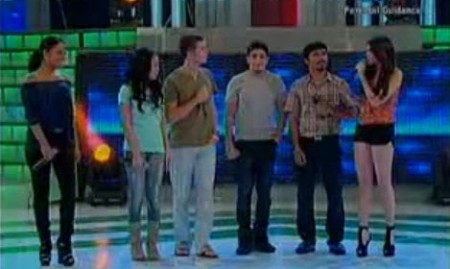 The American Idol Top 11 arrived in the Philippines Saturday morning to perform two concerts on September 20 and 21.
Over the weekend, the gang will be making personal appearances at the local malls to meet and greet fans.
Today, they stopped by the popular TV show "Manny Many Prizes" to sing "Stand By Me" and promote their upcoming appearances.
Thia Megia, who is a Filipino, was warmly welcomed by the crowd. She says that it's good to get back to her roots.
This show…is very uhm. Interesting. The Idols were good sports, and I'll leave it at that.
Watch after the videos below.
http://www.youtube.com/watch?v=hcmYX-jJ-fA&feature=player_embedded#
Scotty
http://www.youtube.com/watch?v=E0sD7Cjg_AM&feature=share
I have no idea what's going on here.