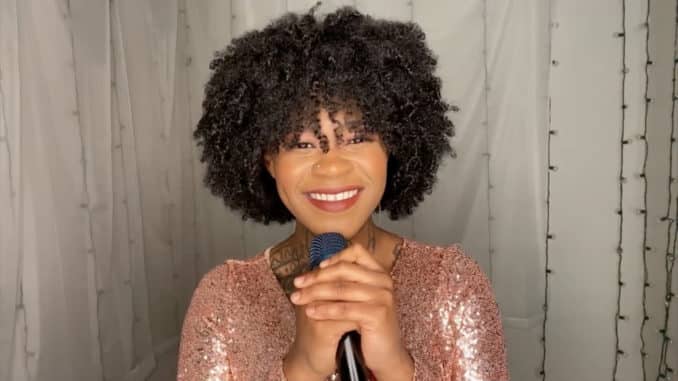 Just Sam announced a new single due out on September 25. The American Idol 2020 winner is dedicating "Change" to friends and family she's lost to street violence.
In an impassioned Instagram post, Sam explains why she is releasing "Change" and what it means to her.
"This next song is very important to me," Sam explains, "After losing many people not only this year, but LAST year and the Year before too, I felt it heavy in my heart to create music that was going to be for the people that were lost."
"I lost a lot of people to the streets"
The singer feels anguish, but also anger: "All of the people that this song is going to be dedicated to were murdered. I lost a lot of people to the streets , to gang violence and street violence, but it's truly tiring having to keep burying my family/friends because of STUPID S***!!!!! Because people are too prideful, people are too hurt, people are too angry, & people are to used to this "HOOD WAY" or the "Street life," but seriously, WHEN IS IT GOING TO END? How many innocent people have to die before we realize that not one life is worth losing over ANY KIND OF BEEF."
"I'm literally sitting here bawling my eyes out because the number of losses that I alone took is ridiculous, and then to think about how many people are burying brothers, mothers , sons & friends across this world due to gun violence and gang violence, it truly hurts my heart," Sam says. "I'm overwhelmed with sadness. People are already dying of covid and that's not enough."
"I truly do hope to inspire people"
Sam knows her music won't change reality. But she hopes to be a source of inspiration: "I know that my music isn't going to make everyone turn their guns and knives in , I know that my music isn't going to take away the years of pain and anger over gang beef & gang war, but I truly do hope to inspire people and get this message out there . Too many lives have been lost, but when will it end?"
"'Change' is the name of my next release and it is dedicated to my brothers, friends, loved ones that were murdered. There is so much more that I want to say, but I will continue to put it into my music. This record is being released in September."
Sam ends her message, thanking her collaborators: "Thank you so much to @catclarkmusic for another hit. thank you thank you THANK YOUUU so much to @soko.7 & @natewillmusic for taking this project seriously and showing me nothing but love and respect for my project, from day one! It was such a pleasure working with y'all on this and I'm excited for more in Jesus name!"
Just Sam released "Africando" independently back in March
Sam released her last single, "Africando" back in March. After winning the show last year, the singer signed a deal with Hollywood Records/19 Recordings. However, Sam never released post-Idol music on the label, and instead proceeded as an independent  artist. In recent interviews, Sam she praised American Idol, the contestants and crew, and insists that her split with the record company was amicable.
Just Sam's upcoming single "Change" is available now to pre-order and will be available to stream and download on September 25.