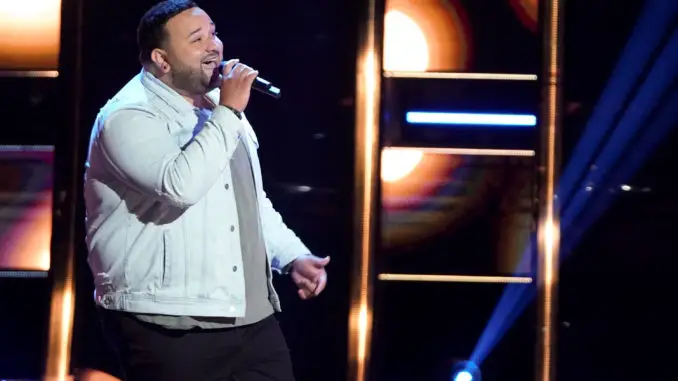 American Idol's Jeremy Rosado Hits The Voice Stage
It was a night full of memories on The Voice Monday night (Read our Recap) as past American Idol finalists, Raquel Trinidad (2019, Top 20) and Jeremy Rosado hit The Voice stage. We also re-lived Season 3's Amanda Brown time on the show as her sister Samara Brown also auditioned.
However, one of the major standouts of the evening was former Idol finalist Jeremy Rosado, from Tampa, Florida, who truly wowed on a stacked night. This was my favorite audition night to date.
Jeremy's video package explains how, at the age of 22, he adopted his niece. Previously, he helped his mother raise her, and that is part of why he gave up his music dream. But now, she is in college. 
Now 29 years old, Jeremy placed 13th on Season 11 of American Idol when he was 20 years old. One of his well-known covers was a flipped version of Carrie Underwood's "I Know You Won't" (Watch) that he sang to win the wildcard round. Tonight, he flipped Rascal Flatts' "Here Comes Goodbye." It is no surprise that coach Kelly Clarkson loved this audition. as her winner Brynn Cartelli from Season 14 did a lovely version during the Knockouts.
Jeremy has always been an emoter, but during his Idol days, his control wasn't great. He displayed a cleaner sound this time on The Voice. His runs flow really nicely and remind me of singers like Sam Smith. He made this song sound more modern which was also a plus, as I thought at times on Idol, he sounded a bit dated. He hit a few big belting notes that got Blake Shelton and Kelly to turn, and then he wrapped it all up with a nice showcase of his falsetto.
Going for emotion over pitch
Kelly calls it "incredibly cool" when talking about how he flipped the country song into an R&B song and declares "that is what we do" on Team Kelly. I totally agree with Kelly about going "for emotion over pitch" when it comes to a vocalist like Jeremy. Ariana Grande admits that she didn't push due to being "slightly nervous" about his control. Jeremy notes how his daughter is obsessed with Ariana, before explaining his story. Blake tries to get Ariana to side with him, but tells Jeremy to choose Kelly. Blake believes that the performance "kept getting better and better." John Legend says that it is clear "how big your heart is."
Ultimately, Jeremy picks Team Kelly. It wasn't a huge surprise to me. Her pitch was better than Blake's, and Kelly made more sense stylistically. It seems like Blake is increasingly getting more bitter when the coaches go against him which sometimes hurts his pitches as he focuses on the other coaches rather than the contestant.
Watch Jeremy Rosado's R&B Twist on Rascal Flatt's Here Comes Goodbye