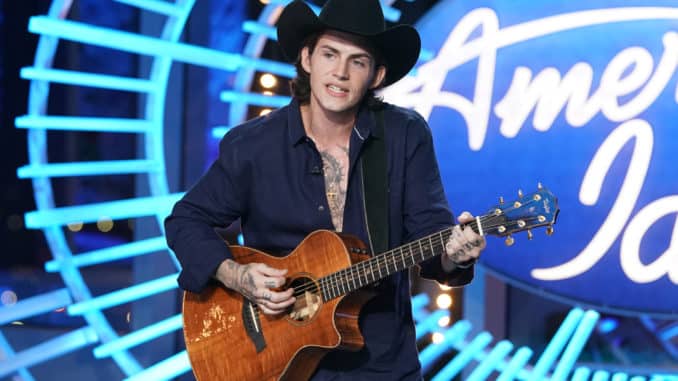 American Idol 2020 Top 5 Finalist Dillon James Signs with UMG Nashville 
Great news from American Idol Top 5 finalist, Dillon James. The country/folk singer, dubbed the "spiritual cowboy" by judge Katy Perry has signed a major label record deal with UMG Nashville, Hollywood Records and 19 Recordings.
"I JUST GOT A RECORD DEAL WITH @umgnashville @hollywoodrecords !!!!!!" Dillon writes on Instagram. "I've been playing music my whole life, it's been a tough road, let me tell you lol. But Because of @americanidol and all of your guys love and support for my craft I was able to make it far enough on @americanidol to get recognized." Dillon continues, "Without your help and love I don't know where I would be today. Probably still recording songs in my room. Singing to my laptop aha."
"To get a record deal has always been a dream of mine and it would never have happened without my squad," writes Dillon. "WE'RE SIGNED BABY, I love you guys! WHAT A DREAM TO BE ON SUCH A GREAT ROSTER." Dillon adds, "Huge thanks to @elissajf @stepharuene @blingbam14 @thefakemikedaly #19recordings #recordingArtist #signed #umgnashville #hollywoodrecords"
Dillon James joins a UMG roster full of American Idol alums
Fellow UMG Nashville artists include American Idol judge Luke Bryan in addition to Idol alums Carrie Underwood and Lauren Alaina. Former American Idol judge Keith Urban is also on the roster.
Dillon James, from Bakersfield, California had a remarkable backstory. He originally headed to Hollywood to pursue an acting career. He managed to star in a couple of Hallmark/Disney movies. But along the way, he became mired in alcohol and drug addiction, which left him homeless. He eventually moved back in with his parents, where he spent two years healing from his addictions. Finally, when he was ready, the singer-songwriter auditioned for American Idol. The singer impressed the judges and fans with renditions of Bob Dylan's "The Times They Are a Changin," Amos Lee's "Hang on, Hang on," and more.
Congratulations Dillon! Watch Dillon celebrate the great news in his latest Instagram post. "You're boy's got a record deal!" he shouts at him mom from the pool.  "I don't know how to swim."  Surf over to page 3 where a label executive zooms in to welcome Dillon to the UMG family.
https://www.instagram.com/p/CCeHEtsAyFy/