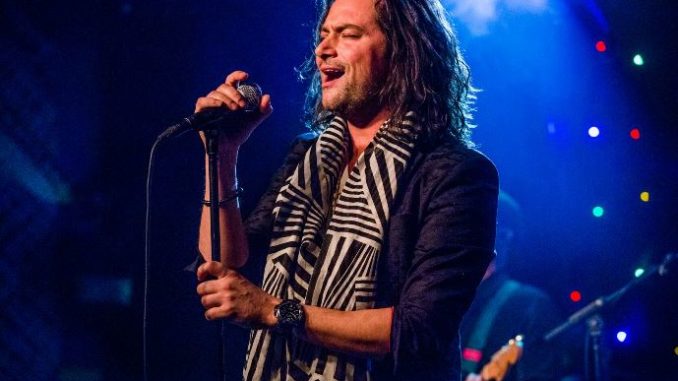 Who did the Masked Singer Tour unmask on Sunday night (June 19) in Boston, Massachusetts? Was it a local celebrity as the singers behind the "Boom Boom Box" costume have been for most stops? No! Well, unless you consider the couple of years American Idol season 4 alum Constantine Maroulis spent at the Boston Conservator in the early aughts. Yes, Boston was treated to the Rock of Ages star when the tour rolled into town on Fathers Day.
Here is Constantine's clue, posted on The Masked Singer Tour Instagram account:
"Man, it feels like ages since I've been able to rock out…And I couldn't be happier to be here tonight performing for all of you. And though I like to rock out, you can consider me a bit of a Jekyll and Hyde…Singer, writer, actor…I've sung on Broadway, I've written music, and have acted on stages around the world…And even was an extra on Law and Order. Here are some random things that you should know about me that aren't so random when you connect them the right way… I've had many influences in my life…A few idols…I love all four seasons…And I came in sixth place in a competition from the past…And you can wish me a happy Father's Day. Oh, and last but not least…It's all Greek to me…Ok…I'll be seeing you later!"
Pretty easy to guess right?  "It's all Greek to Me" – Constantine has Greek heritage. "A few Idols" and "sixth place in a competition from the past" refers to his stint on American Idol in 2005. Constantine starred in a Broadway revival of Jekyll and Hyde. He is a father to daughter Malena. And the "rock" references point to his Tony nominated Broadway role in Rock of Ages. 
Here's the BIG REVEAL:
 

 

 

View this post on Instagram

 

 
Constantine sang "Shake it Off" by Taylor Swift. Would you have guessed who was behind the mask? I feel confident i would have guessed immediately.
 

 

 

View this post on Instagram

 

 
Constantine isn't the first singing show alum to perform on The Masked Singer tour. Last month, American Idol season 16 winner, Maddie Poppe appeared on the Omaha, Nebraska stop. 
The tour  features Natasha Bedingfield aka the Pepper mask as host.
The concert features many of the costumes fans have come to know, but without the famous celebrities inside! However, each city will feature a special "celebrity mask" who will perform, allowing the audience to guess who is behind the mask.
The Masked Singer National Tour ends in Las Vegas on July 30. Get your tickets HERE.