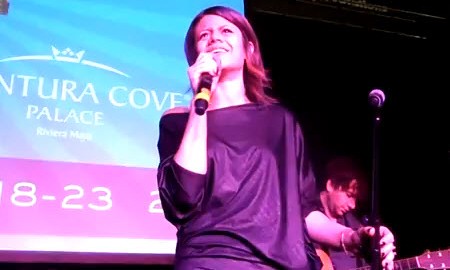 Allison Iraheta, Blake Lewis, Brandon Rogers, Didi Benami, Matt Giraud, Michael Johns and Tim Urban performed a Free concert at Union Station Great Hall in Chicago, IL Friday night.
The performances included a brand new song from Allison Iraheta called "Nothing at All".
I become ridiculously excited when Idols from different seasons sing together.  Check out a slew of performances below.
Source: Reoracer, mskristen8108
Allison Iraheta NEW SONG – "Nothing At All"
Allison Iraheta – Someone Like You – Adele Cover
Michael Johns – Dream On – Aerosmith Cover
Michael Johns and The Idols – Alright Now – Free cover
Michael Johns (and all Idols) – We Will Rock You/Champions
Matt Girard – Love Love – Original Song
Matt Giraud – You and I – Lady Gaga Cover
Matt Giraud – Let's Get in On
Matt Giraud Not Over You, Matt Giraud/Blake Lewis Love You Like A Love Song
Blake Lewis and the Idols – Forget You
Blake Lewis and Brandon Rogers mashup – "She Will Be Loved" by the Maroon 5, "With or Without You" by U2, and "I Gotta Feeling" by the Black Eyed Peas