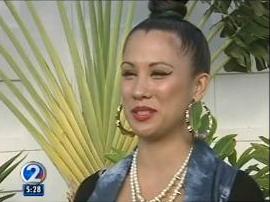 Remember American Idol contestant, Camille Valesco?  Idol went to Hawaii to audition hopefuls in season 3, and Camile was one of two (3rd place finisher, Jasmine Trias was the other) island natives to make the Top 12.
The singer, who impressed the judges with a Lauryn Hill cover, was eliminated in 9th place with an earsplitting rendition of Elton John's "Goodbye Yellow Brick Road"  that is widely considered one of the worst trainwreck performances of the entire series. Listen if you dare. Sads, I could only find audio on You Tube.
Anyhoo. Camile spent the last 8 years in California trying to break into the business, and it has not been easy.  Things got so tough at one point, she was making sandwiches at a Subway shop.  
Twenty-seven years old now, the singer is back in Hawaii where she hopes to record and release an independent album, according to this recent interview with KHON 2.
Camile had a couple of record deals–a singles deal with Motown, and eventually moved on to a hip hop label. She worked with  Kalib Kweli, Stephen Marley and recorded a demo for Cee Lo Green.
The singer had a full album of songs completed, but the record label hasn't put it out yet. Now, she's back in Hawaii going independent. Camile plans to release an album this summer.
"I am writing my own songs doing a couple of covers and collaborating with a few other producers and song writers," she says.
Check out the news clip, where you can hear a snip of a recent performance. Her vibe is soulful, similar to singers lie Amy Winehouse–a sound that's a better fit in today's music scene than it was in 2004.