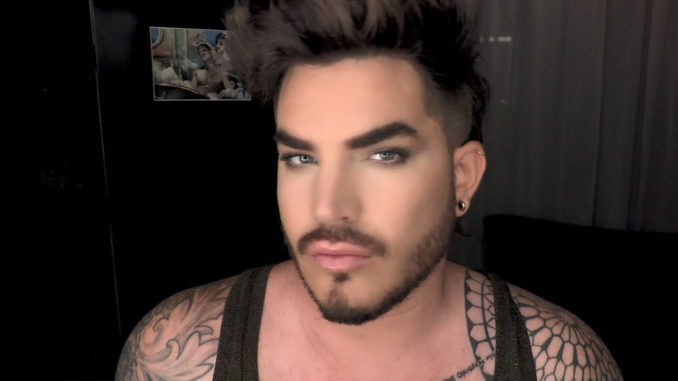 Adam Lambert has started a thing his fans have been waiting for. EXPECTING! The American Idol season 8 alum and Queen frontman posted the first in a series of makeup tutorials!
"Sooo excited to share with you the first of a series of make up tutorials I've been working on!," Adam enthusiastically revealed on social media. "Starting with a natural look I use often when leaving the house. Would love to hear your feedback so be sure to take photos of yourself and tag me! Watch now on my official @YouTube channel and keep an eye out for future tutorials!"
Adam Lambert, Todrick Hall Featured on Cinderella Cast Album (Audio)
Watch Adam Lambert's "The Bill of Rights" from "We the People" (Video)
Earlier this year, Adam dropped by The Kelly Clarkson Show to chat and he shared how he'd been using makeup for much of his life. Indeed, while his vocal prowess and impressive style garnered the singer attention, so did his dramatic makeup looks. As a contestant on Idol, Adam brought an unapologetically glam style that had never been seen on the show's stage before.
Adam would love to start his own beauty company
Adam told Kelly that he could see himself starting his own beauty company. "I would love to; I think that would be really fun," he said. "I was in theater, so [makeup] was a part of getting ready for the show. I just loved getting to sit in front of the mirror and transform my face and cover up all of my freckles at the time."
In the tutorial, Adam takes viewers step by step through a routine that achieves a natural look that's just glam enough to be suitable for nighttime drinks with some friends.
In the tutorial, Adam shares his tips and tricks
Adam works magic with a slew of fun products, including eye powers, concealers, fondation, contour, blush and bronzer. He shares tips he's learned over the years. For instance, how to get makeup UNDER the beard, but not ON the beard. Also, he shares a few simple tricks on how to makeup for photos. 
The singer promises that he's do "more serious glam" in future tutorials.