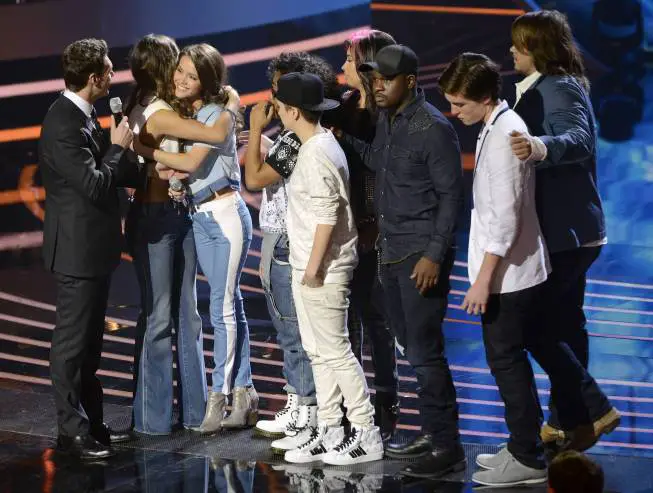 Kristen O'Connor is ELIMINATED
American Idol's first elimination show sent the right person went home. But the bottom 3 was problematic. Despite the votes being limited, there were NO BOYS in the bottom 3! Dexter Roberts, at least, deserved to be there, while MK Nobilette DID NOT. America, I love you, but sometimes you suck.
More kudos to the production team, which has vastly improved the results show. It's very well paced, and beautifully shot. I loved that the group number, a mashup of Counting Stars/Radioactive was a full scale production like out of a Broadway musical. The singing was shaky, but it was entertaining nonetheless.
And instead of giving us a boring recap of what went on last night, we got the Top 13 chatting in their limo and later at dinner about how they felt post show. Some of the responses were honest, and funny. This is the way to allow us into the lives of these kids! The weird Facebook photos floating behind the bootee as she sings is a little distracting. And, I'm assuming their won't be an official boot song. But will the goodbye video be narrated by a song from the bootee? Interesting.
The American Idol XIII Top 13 performed last night. Who will leave the competition tonight? We'll be live blogging the results right here!
The Top 13 perform the season's first GROUP NUMBER (already shot last night–reportedly it took 3 tries to get it right) and season 12 winner, Candice Glover performs her single "Cried." Jake Bugg also performs.
I see why this group number of "Counting Stars" and "Radioactive" was shot ahead of time. The contestants are shot in separate locations, getting ready to hit the stage, walking the halls, in wardrobe, wending their way through the back stage to finally end up wandering through the audience to make it on stage, where the song abruptly ends. Ryan jumps in front of them to announce that THIS IS AMERICAN IDOL. Very clever. The directors are doing a fantastic job of making Idol LOOK fresh. I wish it had more of an impact on ratings.

Opening Group Number – Counting Stars… by IdolxMuzic
Ryan takes the stage for real. There are the Top 13 sitting in "the lounge" waiting to learn their fates. 71 million votes came in. Which is a lot, considering the ratings are down and the votes are limited. It has to be that people are voting, and more often as the process has been made easir. The judges enter next. It's Keith, Harry and Jen!!!
GET READY FOR FILLER. It's time for a recap of last night's performances. Oh. We see the kids in their limo, post show, talking about last night's experience. Ben seriously made a Sanjaya joke. No really he did. Now we see them at dinner talking more. THE STUDIO SEEMS SO MUCH BIGGER says one. Ben snarks that he doesn't know what "kitchy" means. Malaya complains that she didn't get the feedback she wanted from the judges. Ben seems to be the cutup of the group. Emily doesn't want ANYONE to leave. They end dinner with a toast. TO EACH OTHER. Now, that's the way you do a recap! Have the contestants themselves reflect back on what happened. Again, production doing a fine job of tweaking the old formula.
Ohhhh The SAVE is back! Will the judges use it tonight? It expires at the TOP 6, just so you know.  The chances of them using it tonight are nil, unless there is a crazy, shock boot. Which there won't be. Not at this point.
Alex Preston, Ben Briley, Jena Irene and Malaya Watson are called up to the stage. Gah. Randy will be doing a Jimmy Iovine-like rundown of each performance. Except we won't care as much. He criticizes Maylaya's performance, but thinks Jena had a good night. He thought Ben's version of "Folsom" was still too fast. Randy loved the subtleness of Alex's performance.
Ben,  Alex and Jena are safe. Malaya, unsurprisingly, is in the Bottom 3. Jlo is upset that Malaya made B3 and warns that she has to get control of her performance. Malaya post-mortem was negative.  She thinks she could have done better.
Now, for a little video package on Keith Urban. Five things we didn't know about him. His favorite Beatle is Brian Epstein. His favorite Harry Connick song is "Jenny on the Block." Heh.
Here comes season 12 winner, Candice Glover.  Ryan introduces her song as a medley of her "hits."  Hm.  She sings "Cried" and "Same Kinda Man."  She sounds magnificent. But I wish I liked the songs more.  Keith looks really into it. Harry seems to be mulling what he'll have for dinner later.
Next, Harry gets the 5 question treatment. He loves to fish. And box. He's never seen Keith Urban naked.  But he wants to. Alrighty, then.
MK Nobilette, Dexter Roberts, Majesty Rose and Sam Woolf take center stage.  Randy says he had to get MK moving. He thinks she's blossoming. He loves Sam. But he's shy. He's got to get his performance to match his vocal power. Majesty was eating the words in rehearsal. But on the night, she was fantastic. He loved it.  He suggested that Dexter find spots in the song to make his own. Randy doesn't think he took all of his advice. But did enough to stay.
Damn. Effing Dexter is safe, while MK is in the bottom 3. YOU SUCK AMERICA. Majesty and Sam are also safe.
Keith says it will be about making an emotional connection for MK. It has to be more than just "skills"
Oh. Remember when Keith was pimping Jake Bugg at the Salt Lake City auditions? Keith introduces him to us. See, Idol, at this point, can only get up and coming talent to guest on Idol. Because. Ratings.  Having said that. This Jake Bugg dude is pretty awesome. He's got a folkish vibe with a tinge of country. I love his tone, and the hint of English accent peeking out. Reminds me of Wilco or Billy Bragg. Rick Rubin produced his latest album!
Jennifer Lopez is ambushed in her dressing room for 5 questions. Her kids are her life. She eats a chocolate cookie every day. SHE'S A WORKAHOLIC.
Oh. Harry is forcing Ryan to do the 20 second thing right on the spot. He loves food courts. And he's never seen Keith naked either. We all want to see Keith naked.
CK Harris, Kristen O'Connor, Caleb Johnson and Jessica Meuse are center stage. Randy says CJ has to bring his consistency up. He thinks Kristen's performance was OK. But he's not sure she sold the message. Caleb continuously shows us who he is. Randy thought Jessica was great on the night after  he worked with her on selling the song. Randy agreed with Keith, Emily's performance of "Glitter in the Air" lacked some of Pink's edge.
Everyone is safe, but Kristen.   Harry is surprised by the bottom 3.
….and the entire bottom 3 is comprised of women. So limiting those votes really changed the results, eh? (I knew it wouldn't). Yes, Kristen deserved the spot. And Malaya had a shaky performance. But Dexter? Not even a spot in the bottom 3? That's the Power of the Penis for you.
Ryan asks the judges if they will use the save. Keith hedges, saying it has to be unanimous. No way will they use the save tonight.
DIM THE LIGHTS. MK Nobilette is safe. (Thank you Jeebus). It's between Malaya Watson and  Kristen O'Connor. Malaya  is SAFE.  Kristen must now sing for her life.
She sings Adele's "Turning Tables" and, she's still not connecting to the song, but at least it's on pitch more or less? Facebook photos of the fans who voted for her flash behind her. Which is kind of weird, actually.
Harry announces that the decision, to use The Save, has to be unanimous. And of course, it isn't, because at this point, the save isn't going to be used. Kristen O'Connor is eliminated. The right person IS going home. Her goodbye package is set to Kristen's version of Kelly Clarkson's "Breakaway."

Final Results & Elimination (Top 13) – American… by IdolxMuzic
SAFE
Ben Briley
Alex Preston
Jena Irene
Dexter Roberts
Majesty Rose
Sam Woolf
CK Harris
Caleb Johnson
Jessica Meuse
Emily Piriz
MK Nobilette
Malaya Watson
Bottom 3
Malaya Watson – SAFE
MK Nobilette – SAFE
Kristen O'Connor – SING FOR HER LIFE, Eliminated by the judges