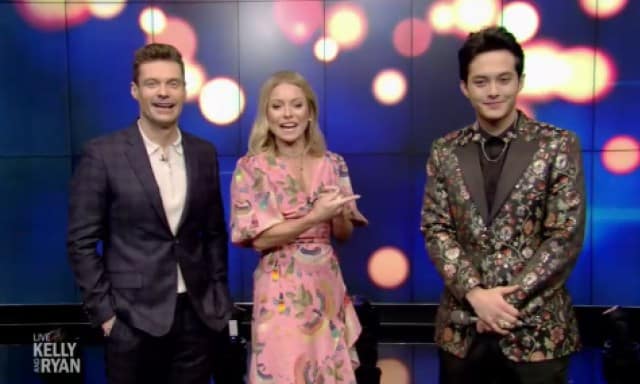 Eighteen year old Louisiana native, Laine Hardy won American Idol 2019 Sunday night (May 19). Almost immediately after being crowned, the rootsy young singer hopped on a plane and headed to New York City for a round of promo.
American Idol's Alejandro Aranda Fears Flying, Got Off Plane to New York
On Live with Kelly and Ryan, which American Idol host Ryan Seacrest co-hosts, Laine performed his winners' song "Flame." Unfortunately, he seemed to have trouble with his earpiece. Unfortunately, he sang to a track. I miss the days when Michael Orland would fly out with the contestants to perform piano for a live acoustic version of the song.
Laine confesses that he only managed to sleep for 3 hours on the plane. And as far as what the singer plans, now that he's won the title? He will head home and see his family but then it's "time to get started working on music." Has the win sunk in yet, Ryan asked, "I'm still processing it," Laine said, "I could barely sing, because I'm thinking 'I'm here right now, wow this is crazy'."
Watch Laine perform his winners single "Flame" on Live with Kelly and Ryan.
Earlier in the morning, Laine chatted with host Michael Strahan on ABC's Good Morning America. Strahan asked what it was like singing right after learning he won American Idol. "They hand you a guitar, they hand you a mic….right after you get the results," said Laine. "I sing. When the rest of the top 10 came out, it helped me out a lot."
Remember Ashton Gill, the friend who auditioned with Laine? He says "she's really proud. She got kicked off the first round of Hollywood week, and she was still happy because she got to experience everything." Laine added, "She loves it. It's fine."
The highlight of the American Idol experience for Laine was "being able to meet people…it's crazy to be able to do this when five years ago I had no idea what was going to happen with my life."
Listen to the studio version of "Flame" written by Jon Levine (Fleur East "Sax", Kat McPhee "Damage Control" Andy Grammer "Honey I'm Good" Leona Lewis "Your Hallelujah") & Ester Dean (Kelly Clarkson "Mr. Know it All" Jessica Sanchez "Right to Fall"  Pia Toscano "This Time" Scotty McCreery "I Love You This Big" Rihanna "S&M" Katy Perry "Firework").