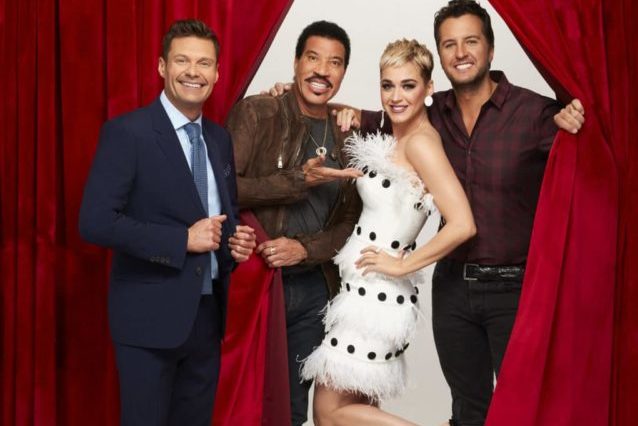 Now that American Idol will be airing on Sundays with no results show, the network has decided to take a big risk and go for real time voting. By the end of next Sunday's (April 29) Disney themed episode, three contestants will have been eliminated from the show. But there's a twist. For the first time ever, on any American singing show, viewers across the country will be able to view AND vote AT THE SAME TIME.
Billboard reports that Idol will air live from 8-10 pm ET, 5-7 pm PT and 2-4 pm in Hawaii. Even Hawaii will be able to watch and vote! ETA: Viewers will be able to watch and vote over a 3 week period, including Sunday April 29, May 6 and May 13. The Sunday May 20 episode will be aired at 8pm ET/PT as usual. After an overnight vote (presumably) the winner will be crowned on th Monday May 21 finale. 
"I come from the U.K. where there is one time zone," executive producer Trish Kinane told Billboard. "We're used to having results at the end of a show. One of the struggles in the U.S. has been what to do about east coast and west coast voting. How do you get central and mountain time and everyone to have the same experience at the same time? There hasn't really been a solution to it. Lots of people have tried it. You could vote on Twitter, but then you're not watching the performance on which you're voting. Or on Rising Star, they did an add-on for the west coast. It was uncomfortable and unsatisfactory."
The idea to simulcast American Idol across all 50 United States came from ABC reality honcho, Rob Mills.
"When we got the show, we were tasked with what's going to be different about ABC's version," Mills told Billboard. "We talked about live voting. Maybe we don't include the west coast because it's not as big a part of the country, but we love the immediacy of live. Because it's going to be airing on Sunday, people are home to watch it and maybe the affiliates would get behind the idea. To their credit, the affiliates completely embraced it. They wanted to be part of something that is honestly historic. And it was so exciting for us because it puts Idol on par with the Oscars and the Super Bowl. Everybody in the country is going to be able to vote at the same time and at the end of two hours, the contestants are living or dying. And that's a big deal."
"ABC has gone a long way to make this happen," said Kinane. "It's the first time in the history of American television that a competition show had had a simulcast where you can view and vote at the same time. By the end of the show you've got results. I think this is going to give Ryan a lot to work with because we're going to see the votes coming in in real time during the show."
American Idol has been airing repeats on Sunday afternoon which is maybe a test run for the live vote? Or a placeholder, perhaps. The show WILL repeat at 8 pm on the west coast with a message that the voting is closed. Currently, over on NBC, Saturday Night Live is broadcasting live coast to coast, but not in Hawaii and Alaska. American Idol is truly making history. Expecting folks will be home at 5 pm or earlier on a springtime Sunday afternoon to watch a singing show? We'll see how that goes.