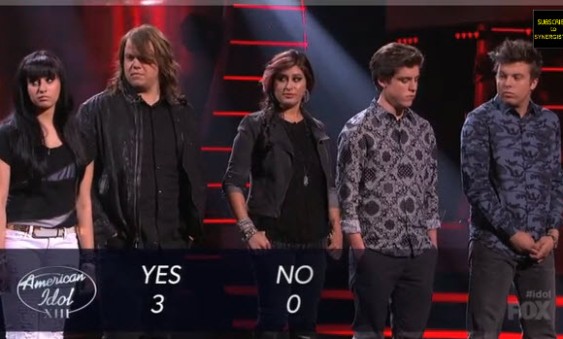 ETA: I was just thinking–The very open rebellion of the remaining finalists against the producers, during the competition, is really unprecedented.
After the American Idol 13 Top 5 results show, check out what Jena Irene, Alex Preston, Caleb Johnson and Jessica Meuse talk more about The Twist. All of them really hated it. They aren't even pulling their punches about that. Jena and Alex said no to keeping the group together another week. As a result, Sam Woolf was sent home with the fewest number of votes.
Sam Woolf On The Drama of The Twist and More (VIDEO)
Caleb and Jessica voted yes, which would have meant a double elimination next week. When they thought about it, preserving America's vote didn't seem like a bad idea.
"I didn't like it at all," Jena Irene explained. "We have a lot of stress on Thursdays already," she said. "To make a decision–it's just added stress that's not needed. I didn't like it at all!"
"We had no idea what was going on," Jena continued. "Literally, the producers came up to us and they were like–you are going to have to make a decision next break. It just didn't make sense. I'm in shock, still."
"I didn't want to see two people go next week," explained Jena about why she said no. "I can't even comprehend that, because there are so few of us left right now."
"When I have to make decisions on the spot, which I'm not prepared for, I have to do what's right for me," Jena declared. "At the end of the day it's a competition."
"I think the idea was really dumb," said Alex Preston. "It's just double the shittiness," he said about the prospect of two people going home the following week. He had expected everyone to say no.
Caleb Johnson didn't like the twist either. "I didn't care much for that," he said. "It was unnecessary and stupid. It was just for the shock value." He said yes, but in hindsight, agreed with Jena and Alex's no vote.
Caleb said they had a list of THREE songs to choose from last week. No wonder he was complaining about having to sing "I Don't Want to Miss a Thing" as if he had no choice.
Jessica Meuse said "The harder this goes on, the harder it gets. We're like a weird little family."
"I didn't like the twist," she said, "It made me think of the Hunger Games."
"I was all ready, she joked. "I got my Katniss braid!"
Jessica made clear that although she voted yes to keep the group together, she's NOT mad at Jena and Alex for voting no. She figured it would have been at least as hard to say goodbye to two people next week.