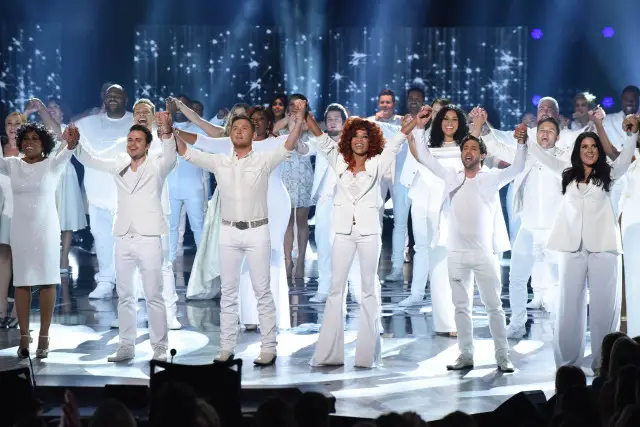 I tweeted during last night's American Idol series finale that Nigel Lythgoe puts on a great finale. Current Idol producers were smart to bring him back. Nobody could have wrangled 50+ former Idols, put them together in groups that not only entertained, but honored the long legacy of the iconic show. 186 minutes went by in a blink of an eye. It could have been 2 1/2 to 3 hours long and I still would have been enthralled.
My only quibbles this morning as I reflect back on the telecast: A solo performance for freaking Kara Dioguardi? Really? Particularly when the current Top 10 had to be content swaying in the background of two numbers. No superstar duets for you kids! SORRY. She should have been relegated to the video clip congratulations that former judges Ellen Degeneres, Steven Tyler and Nicki Minaj delivered. The producers could have at least put together a top 10 medley. I understand putting the former Idols front and center. They are the show's legacy. BUT COME ON.
Also, what is wrong with FOX that they couldn't run over 5 more minutes to fit in the "A Moment Like This" group sing? Also an "In Memoriam" mention of Idols who are no longer with us would have been welcome. Fans really wanted at least a mention of the late Michael Johns from season 7. With several of his close friends on stage last night, it would have been appropriate. But other than that?  KUDOS to everyone involved with last night's celebration.
I enjoyed all of the Idol medleys featuring former contestants. The pop medley featured standout vocals from Pia Toscano, Allison Iraheta and Tamara Gray in particular. Wait. One more complaint. I know he was a viral sensation back when he appeared on the show, but the inexplicable insertion of the "Pants on the Ground" guy in that performance was random and jarring. Click to Watch.
The rock medley featuring James Durbin, Chris Daughtry, Bo Bice, Constantine Maroulis, and Caleb Johnson was completely insane in the best possible way. On the other side of the spectrum was the solemn and gorgeous acoustic medley. Carly Smithson and Jessica Sanchez in particular were just sensational! Click to Watch.
And what about that over the top soul medley? Taylor Hicks and LaToya London were an unexpected, but delightful pairing. AND HEFFAS SANG! Candice Glover and Melinda Doolittle brought forth shoe toss worthy performances of "Joy to the World." Joshua Ledet was also his usual jaw dropping self. Click to Watch.
The David Bowie medley was solid, featuring winners David Cook, Kris Allen, Lee DeWyze, Phillip Phillips and Nick Fradiani. But it also proved an important point. The conventional wisdom that the string of pop/rock leaning white guys, known not always so fondly by the acronym WGWG, was a disparate group of vocal styles and approach that didn't always mesh. The only thing they had in common were the guitars strapped around their necks. Click to Watch.
The country medley was enjoyable too, albeit a little messy at times. Loved seeing season 12 and 11 standouts Kree Harrison and Skylar Laine back on stage. Constantine as an honorary country singer was a hoot. Click to Watch.
Carrie Underwood was her usual classy self. It's AMAZING how far she's come since her wooden American Idol days. She commands the stage these days. Click to Watch. It's too bad Kelly Clarkson couldn't have joined her fellow winners at the Dolby theater last night, but her medley of hits was a fine substitution. Click to Watch.
Click to read my full Live Blog.
As far as the results are concerned, I predicted Trent Harmon the winner because I strongly suspected, no matter how hard the show gamed for a female winner, it was just not going to happen. The propensity to crown boys is by now baked into the show's DNA. It's OK though. Trent Harmon as the come-from-behind, humble and MEGA talented singer represents classic American Idol. It WAS fitting to have two big voiced singers round out the show's legacy. Their vocal styles really do harken back to an earlier time. With La'Porsha Renae also nabbing a record deal, on Motown/Universal, she is in essence a co-winner. The deserving runner-up is not heading back to her Mississippi hometown without a prize. The double signing was the perfect feel-good ending for the game changing series.  By the way…I'm still in denial that it's all over. Click to Watch Trent Harmon win American Idol.
How about a couple of polls?
Grade the Episode
Favorite Alum Medley
Check out this gallery of photos from the show and red carpet
American Idol Series Finale Gallery
Red Carpet Gallery