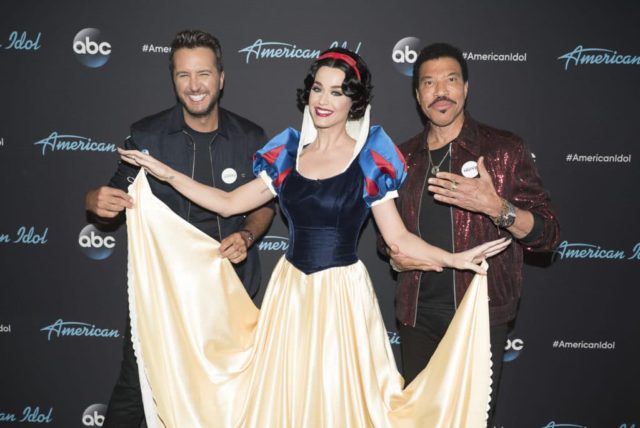 American Idol ratings were second the week of April 23. Only the Big Bang Theory beat it. BBT was the only show to break 2.0. American Idol's Disney night, a coast to coast broadcast earned a 1.9.
Disney night came in 5th in terms of viewers, with the Tuesday version of  The Voice was the 3rd most viewed show of the week.
ABC won the adults 18-49 race in the (rather soft) week of April 23, thanks in part to a nationwide live broadcast of "American Idol."

"Idol" finished second for the week in the 18-49 demographic with a 1.9 rating, 0.1 behind "The Big Bang Theory." A block of "Roseanne" repeats on Tuesday also performed fairly well, snagging four spots in the top 25, and "Grey's Anatomy" also finished in the top 10.

ABC averaged a 0.9 in the 18-49 demo for the week, which was the second straight with no network breaking the 1.0 mark. CBS had the biggest total audience (6.4 million) for the eighth week in a row.
Top 25 broadcast shows in adults 18-49 for April 23-29, 2018
1 THE BIG BANG THEORY CBS Thurs. 8:00 PM 2.0 2,633
2 AMERICAN IDOL ABC Sun. 8:00 PM 1.9 2,451
3 YOUNG SHELDON CBS Thurs. 8:31 PM 1.8 2,309
4 EMPIRE FOX Weds. 8:00 PM 1.7 2,137
5 THE VOICE NBC Tues. 8:00 PM 1.6 2,031
SURVIVOR CBS Weds. 8:00 PM 1.6 2,030
7 ROSEANNE – R ABC Tues. 9:30 PM 1.5 1,991
THE VOICE NBC Mon. 8:00 PM 1.5 1,944
ROSEANNE – R ABC Tues. 9:00 PM 1.5 1,914
GREY'S ANATOMY ABC Thurs. 8:00 PM 1.5 1,889
11 AMERICAN IDOL ABC Mon. 8:00 PM 1.4 1,781
12 ROSEANNE – R ABC Tues. 8:00 PM 1.3 1,732
ROSEANNE – R ABC Tues. 8:30 PM 1.3 1,706
MOM CBS Thurs. 9:01 PM 1.3 1,676
15 AMERICA'S FUNNIEST HOME VIDEOS ABC Sun. 7:00 PM 1.2 1,543
STAR FOX Weds. 9:00 PM 1.2 1,525
17 NFL DRAFT ROUND 1 FOX Thurs. 8:00 PM 1.1 1,464
18 THE BIG BANG THEORY – R CBS Mon. 9:30 PM 1.0 1,353
LIFE IN PIECES CBS Thurs. 9:30 PM 1.0 1,342
YOUNG SHELDON – R CBS Mon. 8:30 PM 1.0 1,314
THE BIG BANG THEORY – R CBS Mon. 8:00 PM 1.0 1,311
YOUNG SHELDON – R CBS Mon. 9:00 PM 1.0 1,310
FAMILY GUY FOX Sun. 9:00 PM 1.0 1,290
CHICAGO MED NBC Tues. 10:00 PM 1.0 1,235
THE SIMPSONS FOX Sun. 8:00 PM 1.0 1,233
Top 25 broadcast shows in total viewers for April 23-29, 2018
1 THE BIG BANG THEORY CBS Thurs. 8:00 PM 11,797
2 YOUNG SHELDON CBS Thurs. 8:31 PM 11,158
3 THE VOICE NBC Tues. 8:00 PM 9,258
4 60 MINUTES CBS Sun. 7:00 PM 9,157
5 AMERICAN IDOL ABC Sun. 8:00 PM 8,767
6 THE VOICE NBC Mon. 8:00 PM 8,434
7 MOM CBS Thurs. 9:01 PM 8,314
8 BLUE BLOODS CBS Fri. 10:00 PM 8,127
9 SURVIVOR CBS Weds. 8:00 PM 7,815
10 HAWAII FIVE-0 CBS Fri. 9:00 PM 7,789
11 AMERICAN IDOL ABC Mon. 8:00 PM 7,631
12 NCIS: LOS ANGELES CBS Sun. 9:00 PM 7,621
13 INSTINCT CBS Sun. 8:00 PM 7,005
14 NCIS – R CBS Tues. 9:00 PM 6,984
15 NCIS – R CBS Tues. 8:00 PM 6,686
16 GREY'S ANATOMY ABC Thurs. 8:00 PM 6,549
17 ROSEANNE – R ABC Tues. 9:00 PM 6,505
18 THE BIG BANG THEORY – R CBS Mon. 8:00 PM 6,382
19 ROSEANNE – R ABC Tues. 9:30 PM 6,381
20 ROSEANNE – R ABC Tues. 8:00 PM 6,378
21 SEAL TEAM CBS Weds. 9:01 PM 6,267
22 MACGYVER CBS Fri. 8:00 PM 6,257
23 LIFE IN PIECES CBS Thurs. 9:30 PM 6,224
24 CHICAGO MED NBC Tues. 10:00 PM 6,153
25 ROSEANNE – R ABC Tues. 8:30 PM 6,117