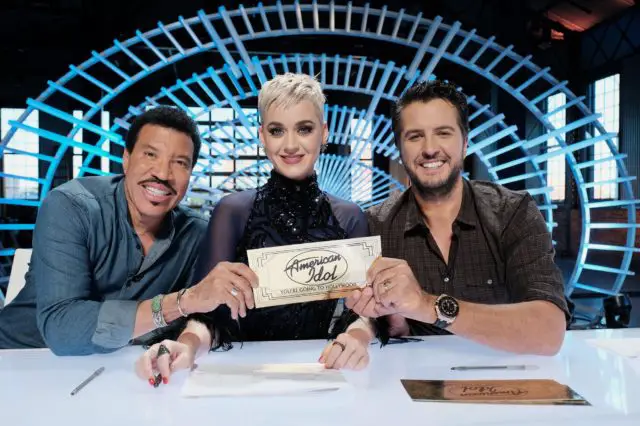 American Idol producer Trish Kinane recently had a chat with Deadline about the decision to–as well as the challenges of–reviving the show on ABC.  When rumors first surfaced in 2017 that talks were underway to bring the iconic competitive reality show back to television, many wondered WHY? FOX cancelled the show after ratings fell precipitously over several seasons and it was no longer cost effective to produce. What could make a difference after only two years off the air?
Eventually, Idol producers Fremantle and Core Media struck a deal with Disney/ABC. The format stayed the same, but with a couple of twists. The boldest change was ABC's decision to air coast to coast during the live finals enabling the entire country to vote for contestants in real time. Here are a couple of highlights from the interview. 
On why the producers decided the time was right to bring back American Idol: 
When the show went off the air on Fox, it was still getting really good ratings…We looked at it pretty carefully, and what viewers were telling us was, they still liked it. They weren't ready to see it go. They liked discovering new talent, and if we were going to bring it back, we shouldn't leave it too long. Because if you leave it too many years, other things come and take it over. It was two years between when it went off the air on Fox and coming back on the air on ABC, which seemed decent. I think that thing about talented contestants looking for ways to have a career, it's always popular with viewers. The other thing that the research told us was that the profile of ABC's viewers was a really close match with Idol viewers. So it seemed a really natural fit.
Well, there's also that little matter of Fremantle and Core Media losing a major source of revenue. Finding Idol a new home became a priority for Fremantle. If every deal fell through last season, I have no doubt they would have kept trying.
Kinane is full of praise for Disney/ABC's marketing and promotion efforts of behalf of Idol
The marketing and promotion that we've gotten from ABC have been amazing. That has made it a very happy transition, without denying the really great relationship we had with Fox before that. When we went to ABC we looked with them at refreshing the brand creatively, and we thought, Okay, we have an opportunity now. What do we do? Do we completely change American Idol and bring it back in a very different way? In the end, we decided that everything about it was going to be different, but also everything about it was going to be the same if that's not a contradiction. The format works: It was simple. Viewers know it, they understand it, they know the phases, auditions, Hollywood week, live shows. It works. So there was no point trying to put some gimmick into that just to make it feel different for non-organic reasons.
Also, American Idol as part of the Disney family can take advantage of their branding. So far, winner Maddie Poppe has appeared on Good Morning America, Jimmy Kimmel Live (The Voice winners do not appear on Tonight, interestingly), ESPN, Radio Disney and more. She'll be performing on Saturday's Radio Disney Music Awards as well. FOX has no morning or late night shows. There are no suitable sister stations available under the Murdoch umbrella where the show and it's alums can be cross branded. Although Idol achieved incredible success on the FOX network, at this point, ABC is a much better fit.
In the past with Idol and The Voice and other shows, they've had to have a results show the next day, or a few days later, or whenever it is, so that the voting can happen East Coast and West Coast. Then, the results show is normally sort of filler. All you want to know is who's going home or who's through, but you have to fill an hour worth of TV before you get to that.

Shows like Rising Star tried to address it with a bit of a West Coast tag-on, and The Voice tried their ways of addressing it, but what we came up with with ABC was made possible because we're on on a Sunday. The affiliates were really supportive and cooperative to let us transmit live simultaneously, East Coast and West Coast, and therefore get a true result at the end of the show. That's never been done on a competition show in the history of American television. It's a first. So that was exciting. And that was truly in collaboration with ABC.
Simulcasting American Idol during the live shows was a risk that paid off. Those episodes actually increased in ratings from the previous weeks, which is opposite what usually happens. There was a downside, to be sure. Having the voting window open at the beginning of the show and then closing it a few minutes after the last performance is NOT ideal. The format favors singers who already have fan bases, not allowing for breakthrough performances that could potentially shake up the status quo. Having said that, I look forward to the return of the coast to coast twist–with some tweaks.
Kinane also talks about how the Idol bus tour which stops at small towns all over the country reaches kids that can't afford to fly to auditions in bigger cities.  She doesn't mention that Idol also relies on talent scouts who reach out to singers. Nevertheless, she promotes the idea that Idol still exists as a vehicle for brand new talent.
Read the entire interview at Deadline.