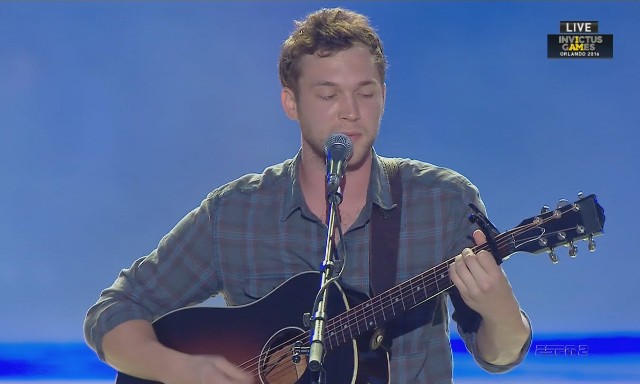 Watch Phillip Phillips perform a 25 minute set of his best known songs at Thursday night's Invictus Games 2016 closing ceremony. The American Idol season 11 winner performed "Man in the Moon," "Unpack Your Heart," "Gone Gone Gone," "Raging Fire, and his massive hit song, "Home." On the latter, he asked the crowd to sing along, which they happily did.
The Invictus Games are an international Paralympic-style multi-sport event, created by Britain's Prince Harry, in which wounded, injured or sick armed services personnel and their associated veterans take part in sports. The first Invictus Games took place in 2014 at the Queen Elizabeth Olympic Park in London, United Kingdom. The 2016 edition kicked off on May 8 at the ESPN Wide World of Sports at Walt Disney World, near Orlando, Florida.
Check out Phillip's five song set right here.
Part 1 – Man in the Moon, Unpack Your Heart
Part 2 – Gone Gone Gone, Raging Fire, Home