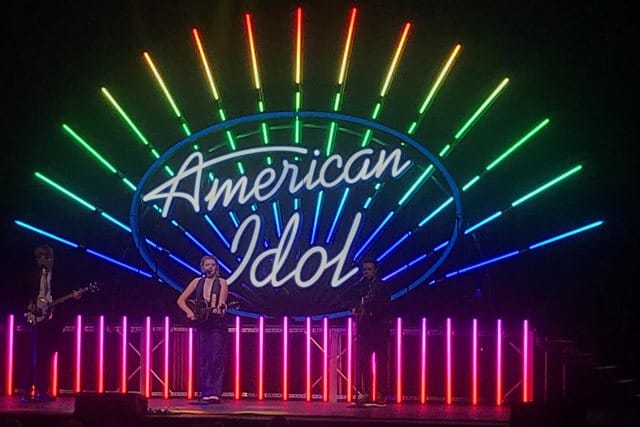 The American Idol Live! show kicked off in Redding, California on Wednesday (July 11) moved on to Central Point, Oregon on Thursday (July 12) and are set to perform in Napa, California on Friday (July 13). It took a couple of days, but we finally have a tentative set list (performance order not confirmed). A big thanks to the folks at Kris Allen Lists for putting together all the songs! I added a few more that I found online.
The 2018 American Idol Live tour features the Top 7 which includes Maddie Poppe (winner), Caleb Lee Hutchinson (runner-up), Gabby Barrett (2nd runner up), fifth place finalists Cade Foehner and Michael J Woodard and seventh place finalists Jurnee and Catie Turner.
Season 8 winner Kris Allen is part of the show as a featured performer, while In Real Life (winners of the ABC summer competition Boy Band) will be appearing on select dates.
The set list is mostly made up of fan favorite songs from the show, with a few new covers. Kris performs his latest single, "When All the Stars Have Died" in addition to "Heartless," the Kanye West cover which served as HIS breakout moment on the show way back in 2009.
There aren't a ton of videos floating around, but I have added the vids that are currently available. One big drawback–like the season 13 tour, other than the instruments the singers play, there is no backing band.
I'll pin this post to the sidebar. Watch for updates.
Pre-Show VIP group number
All Night Long by Lionel Richie
Pre-Show Kris Performance
Opening Act: In Real Life
Tonight Belongs to You
Eyes Closed
Tattoo (How b'out You)
Meant to Be by Florida Georgia Line and Bebe Rexha – VIDEO
Never Enough from The Greatest Showman – VIDEO
Part of Me by Katy Perry – VIDEO
Havana by Camila Cabello (with Gabby and Jurnee)
Group number:  Michael Woodward, Catie and  Gabby Barrett 
Group number: Jurnee, Michael and Gabby
Bang Bang by Ariana Grande and Jessie J.
Red Wagon by Miranda Lambert
Church Bells by Carrie Underwood
Don't Stop Believing by Journey
Group number feat Gabby and rest of Top 7
My Church by Maren Morris
Group number: Gabby, Cade Foehner, Jurnee and Catie
How Come You Don't Call Me Anymore by Prince – VIDEO
Brand New Key by Melanie – Catie bangs a tambourine for this and rest of contestants are out with her.
Like a Wrecking Ball by Eric Church – backed by Kris on guitar (and also Cade)
Don't Close Your Eyes by Keith Whitley – VIDEO
Folsom Prison Blues by Johnny Cash – backed by Kris and Michael
No Good by Kaleo
The Thrill is Gone by BB King
Never Tear Us Apart by INXS
Idol Medley: Falling Slowly by Glen Hansard and Marketa Irglova/Ain't No Sunshine by Bill Withers/Heartless by Kanye West
When All the Stars Have Died
Live Like We're Dying 
My Heart Will Go On by Celine Dion
Maybe This Time from Cabaret and Beauty and the Beast (with Gabby and Catie) – VIDEO
You've Got a Friend by James Taylor – VIDEO
Group closing number – Kris and the Top 7
There's Nothing Holding Me Back by Shawn Mendes – VIDEO