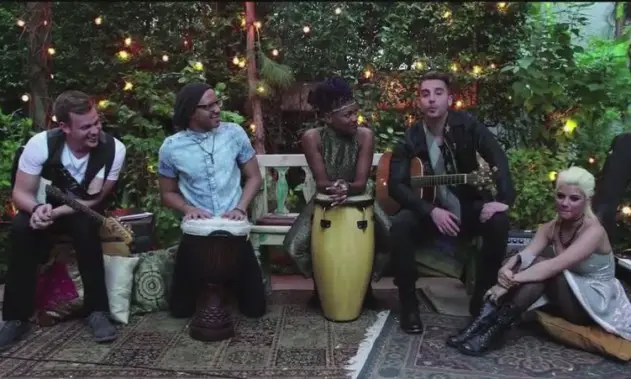 The American Idol top 5 got all glammed up for a Lee Cherry photo shoot to promote the  American Idol Live 2015 tour, which begins on Tuesday July 7 in Clearwater, FL.  And when I say glammed up–check out that lipstick on Clark Beckham!  But, who could resist making up that full pout? AM I RIGHT?
Adam Lambert fans are familiar with Lee's work. He has not collaborated with the American Idol season 8 runner-up on many shoots, but he's also a pal.
In the video, the contestants talk about how far they've come. Only a few short months ago, they were struggling artists. Remarks winner, Nick Fradiani, "Life's quite a lot different from what it was 6 months ago when I was playing bars, for like 8 people."
"We're living the glamorous life in the Top 5! It's so exciting. It's a non-stop roller-coaster ride…having a ball. I'm with my family." exclaims Jax.
"My life has definitely altered," says Rayvon Owen, "Going from performing for colleges, and doing small gigs, corporate gigs, to now performing in front of millions of people. I get to go on a nationwide tour. That's insane!"
"For me, life has changed a lot being a normal teenager going to school,"says Tyanna Jones. "And now…I have people who look up to me and I'm verified on twitter and instagram!"
Clark Beckham muses, "Just 4 months ago, I was on a street corner in Nashville, on 3rd and Broadway, begging people to look at me, just to hear me sing.  Now I'm walking down the street, and people know who I am."
In another behind the scenes video from the shoot, the Idols namecheck their favorite songs on the show. For Rayvon, it's "Since U Been Gone." Nick mentions "Man in the Mirror" and "Teenage Dream." For Jax, it's "Beautiful Disaster." Clark loved "Every Breath You Take," and Tyanna, "Tightrope." Will these be songs we can expect them to sing on stage?
The Top 5 talk about their expectations of tour life. So much excitement in anticipation of the opportunity to perform for fans, without competing or worrying about judges critiques. "A lot of times when we're on the show, says Clark, "We're singing to the camera, and we only get 90 second bits. But on tour, we get to relax. Nobody's getting cut, nobody's going home. We actually get to sink into the music and play for real live people…"
And…check out this AMERICAN IDOL TOP 5 Jam session! Nick promises an experience thats "up close and personal…like you've never seen us before!" So check out the tour, ya'll.