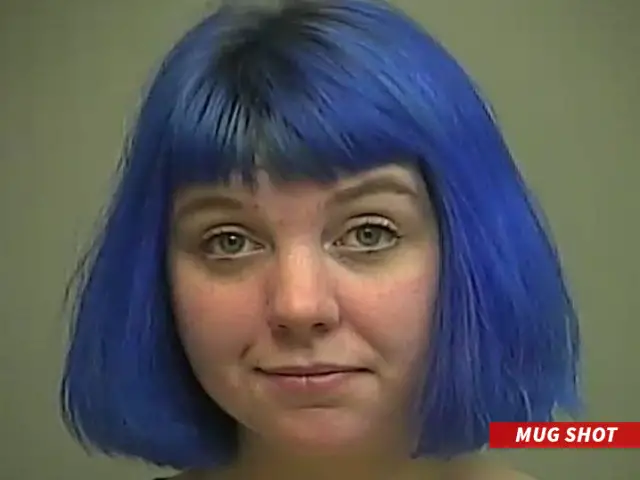 Oops. American Idol season 14 alum, Joey Cook, got caught with pot in her suitcase as she was trying to fly out of a Wyoming airport. Those TSA spot checks can get you. Via TMZ:
"American Idol" contestant Joey Cook just got served by the long arm of the law … getting busted for weed in a Wyoming airport.

Cook was arrested early Friday morning in Rock Springs, WY for possession of marijuana. She spent a brief 5 hours in jail before getting in front of the judge. Court officials tell us Joey paid a $240 fine and was put on 12 months of probation.

TSA found the pot in her luggage as she was trying to fly outta town. She's on tour and has a show in Denver Friday night.
Joey is currently on tour with Postmodern Jukebox, along with fellow American Idol alums, Casey Abrams and Blake Lewis. The tour ends this weekend. At least she won't miss tonight's show in Denver.
TMZ also helpfully posted the mug shot.
UPDATE: Joey released a statement to the press and a short video:
Thank you all for your concerns, everything is fine & I'll see you so soon, Denver!! ?????? pic.twitter.com/M5xagwRdeH

— Joey Cook?? (@IamJoeyCook) December 19, 2015
Firstly, I want to apologize for any inconvenience I've caused. I want to personally thank the city of Rock Springs, Wyoming, for their dedicated service and due diligence during this harrowing time. While I am not advocating my actions, as an epileptic, I've relied on natural remedies to manage my symptoms with great effectiveness. In the future, I will do my best to be more respectful of state laws. I want to personally thank all of my fans for their support, and thank and commend Postmodern Juxebox for standing with me during this ordeal. At this moment, I'm grateful to be safe and able to perform. See you at our PMJ show in Denver tonight and Aspen tomorrow.