Photo: @wsav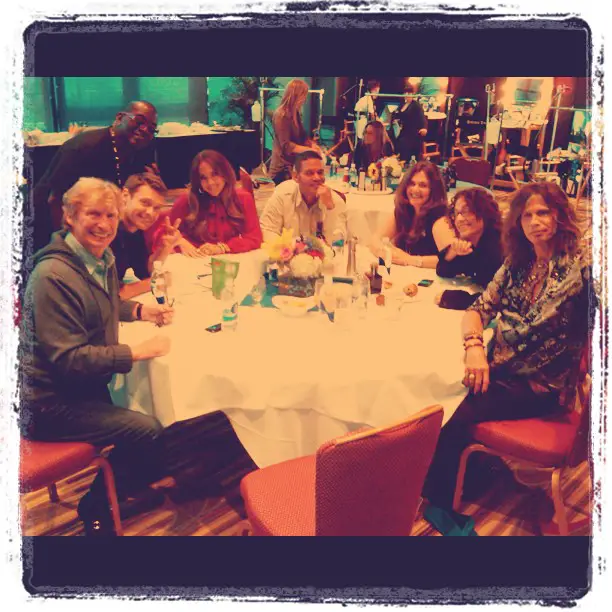 Via @RyanSeacrest
I guess that American Idol contract is a go, because Jennifer Lopez has arrived in Savannah, GA for the 1st round of Judges auditions today.  A press conference for the judges and Ryan Seacrest is reportedly set for tomorrow.
Yellow ticket holders from the Charleston, SC auditions will be singing before the American Idol judges when auditions auditions begin.
UPDATE: Here's the official Press Release announcing the judges return to Idol!  Reportedly, Jennifer signed another 1 year contract.
JENNIFER LOPEZ, STEVEN TYLER AND RANDY JACKSON – RETURN TO JUDGES' PANEL AND RYAN SEACREST RETURNS AS HOST – OF "American Idol"
American Idol Season 11 Debuts Sunday, January 22, on FOX Series Received 10 Emmy® Award Nominations – Most Nominations for a Reality Program This Year
Global icon Jennifer Lopez, rock legend Steven Tyler and Grammy Award-winning producer Randy Jackson will return to the judges' panel for the 11th season of American Idol. The trio, along with Emmy®-nominated host Ryan Seacrest, will begin their search for America's next singing superstar when American Idol debuts Sunday, Jan. 22 (10:00-11:00 PM ET/7:00-8:00 PM PT), immediately following the NFC CHAMPIONSHIP GAME on FOX.
American Idol recently received an incredible 10 Primetime Emmy® Award nominations, more than any other reality program on television and the most nominations in the show's history. Highlights include Emmy® nominations for Outstanding Reality-Competition Program as well as an Outstanding Host for a Reality or Reality-Competition Program for Ryan Seacrest.
"Having both Jennifer and Steven return to IDOL in 2012 alongside Randy is such a positive reflection on what was a wonderful and hugely successful season last year, and everyone is delighted, " said Simon Fuller, Creator and Executive Producer, American Idol.
"I am very pleased to have our panel of judges back for the 11th season of American Idol, " said executive producer Cecile Frot-Coutaz. "Their chemistry and ability to select amazing talent made last season one of our most successful yet, and we look forward to going on another exciting ride."
"From the very first day of auditions, we knew we had something special in our new judges panel, and we're so happy that America felt that way too, " said Mike Darnell, President of Alternative Entertainment, Fox Broadcasting Company. "Together with Ryan – who is fantastic day in and day out – they built an incredible connection with both the contestants and our viewers, and I'm absolutely thrilled to welcome them all back to IDOL for another season."
American Idol, television's No. 1 show, continues its search for the best undiscovered talent in the country with auditions in Houston, TX, on Friday, Aug. 26. For more audition information, visit www.americanidol.com.
Emmy Award-winning American Idol is produced by 19 Entertainment, a division of CKX, Inc. and FremantleMedia North America Inc. Created and executive-produced by Simon Fuller, XIX Entertainment and executive-produced by Cecile Frot-Coutaz, CEO, FremantleMedia North America, Inc.; Ken Warwick, Executive Producer, FremantleMedia North America, Inc.; and Nigel Lythgoe, President, Big Red 2 Entertainment. American Idol has been No. 1 among Adults 18-49 for the past eight consecutive seasons and currently ranks as the No. 1 television show of the 2010-11 season.