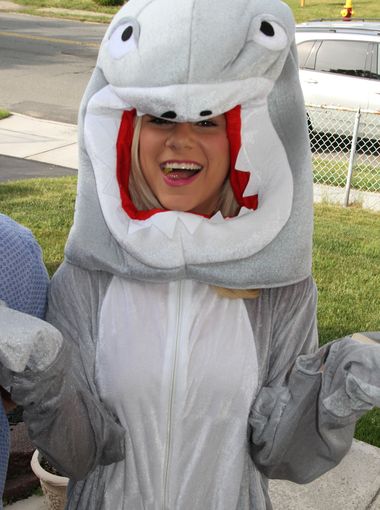 Top 3 "American Idol" finalist Jax prior to picking up Jax Pack superfan Bella Mashanski, 14, of East Brunswick and going to the Churchill Junior High School 9th grade Semi-Formal in East Brunswick May 29. Jax dressed in the shark suit as she was fulfilling a promise to do so if she reached 80,000 followers on Twitter. Courtesy of Jill Miskanic via MyCentralJersey.com
American Idol season 14 2nd runner up, Jax, has been keeping pretty busy. She accompanied Big Machine Label group CEO, Scott Borchetta, to Indianapolis over the Memorial Day holiday, where she sang the National Anthem before a race at Indianapolis Motor Speedway.
Last Wednesday (May 29), Jax had a busy day that began with a visit to some of her senior JaxPack members. Jax and "one of her biggest and oldest fans," Claire Lind, 93, sang together at the Jewish Home at Rockleigh, NJ, where the woman lives, reports MyCentralNJ.
For about 2 hours, Jax entertained the residents there, some had travelled over two hours to join viewing parties in East Brunswick, the singer's hometown.
Later that day, Jax presented 14 year old Bella Mashanski with a Jax look-a-like American Girl doll from for winning American Idol contest, the X Games. Bella won the contest by convincing  more than 200 people to vote for Jax during the last weeks of the show, marking their hands with an X for photo proof. Bella's devotion to the singer predates Idol. She's been following her since 2009, when her uncle introduced the budding young singer to the work of some local artists.  Bella became a superfan immediately, and the rest is history.
To top the day off, Jax's brother, Matt Miskanic, 16, asked Bella to the 9th grade school semi-formal. Jax accompanied the pair to the dance dressed in a fun "left shark" onesie. Click to check out the fun photos.
Now Jax is on the move again. On Monday she flew to…SWEDEN? What could the singer possibly be doing in the capital of pop music? Actually, she's there for this event, which involves racing remote controlled "radio heads" fashioned in the likeness of each of the artists. HELLA CREEPY. Click at your own risk!
We're bringing you the heads of five entertainers. 3D printed and hacked to be controlled through our new wireless headphones. Live streamed from Stockholm, Sweden in a two day racing event. Pick the winner in the first session now for a chance to get your hands on one of the 1000 headphones we're putting at stake.
The drivers have their 3D printed heads on wheels & are lined up for #RadioHeads. Get ready on http://t.co/U1OKd5dxIH pic.twitter.com/ya0cohUEu2

— Urbanears (@Urbanears) June 2, 2015
This is creepy and hilarious and awesome at the same time! ???? So pumped for Sweden! #RadioHeads http://t.co/kwU0u3Y5t5 pic.twitter.com/TfY2zgsTW5 — JAX (@Jax) May 30, 2015
Realizing after my first run through with the toy race cars, I am EXTREMELY bad at racing. I don't even know my lefts from my rights.

— JAX (@Jax) June 1, 2015
I wonder if Jax will be meeting up with songwriters when she's in Sweden? Scott Borchetta continues to be one of her best twitter pals at the moment. Things that make you go hmmm…
TVLine Interview with JAX