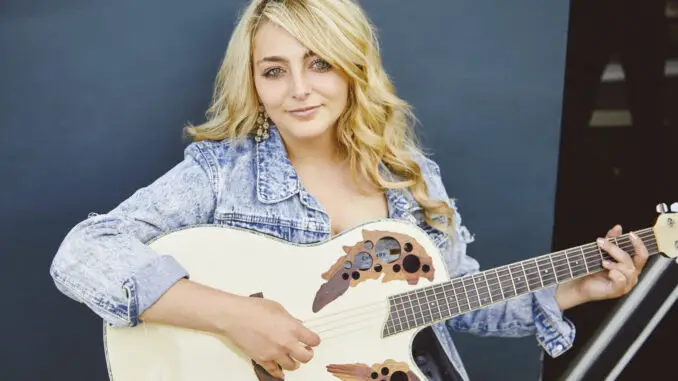 American Idol Top 5 contestant, HunterGirl released his new original song, "Redbird" on Friday (May 13) along with his fellow Top 7 finalists. The song has climbed as high as No. 9 on the iTunes overall chart.
The 23-year-old Tennessee native (real name Hunter Wolkonowski) began singing at three years old with her grandfather at church and began writing her own music at nine. From a young age, Hunter competed in singing competitions and performed at venues across the country. At 15 years old, she won the 2014 Texaco Country Showdown. She has also won several songwriting contests like "Nash Next" and the Nashville Songwriter Association International. The country singer unanimously received a platinum ticket at the start of her American Idol journey sending her directly to the second round of Hollywood Week.
Her five-song EP One Day charted #4 on iTunes and #2 on the iTunes country chart. 
</a
"Red birds have been a big sign in my life since I was a little girl," HunterGirl shared in a press statement. "There is a saying that states, 'When a cardinal appears around you, it is one of your family members in Heaven coming down to visit you.' My mom also told me when I was younger that if I made a wish on a red bird, when it flies my wish will come true."
"A red bird flew across my window"
"The evening of the first episode of American Idol, I was driving to my family's house terrified. I was so scared about being on television. What if people don't like me? What if I am not good enough? I was talking to God and I said, 'I know that you know everything is going to be okay, but could you just let me know?' Right after I asked that question, a red bird flew across my window and more flew as I drove down the road. It was like he was saying everything was going to be alright."
"The day after the episode, I came back to Nashville to write this song with two of my friends, Matt McKinney and Austin Goodloe. This is a song that is from my heart. I hope that this song can help someone like it helped me when I wrote it."
"Red Bird" was produced by Jimmy Robbins (Maren Morris, Kelsea Ballerini, Brett Young).
The Top 3 will debut their singles on the American Idol season 20 finale airing on ABC May 22. But before that, the Top 5 will sing two songs on the Top 5 performance episode airing on Sunday May 15. Ryan Seacrest will reveal the Top 3 at the end of the episode after a nationwide vote.
Watch the visualizer for HunterGirl's original song "Redbird" below.