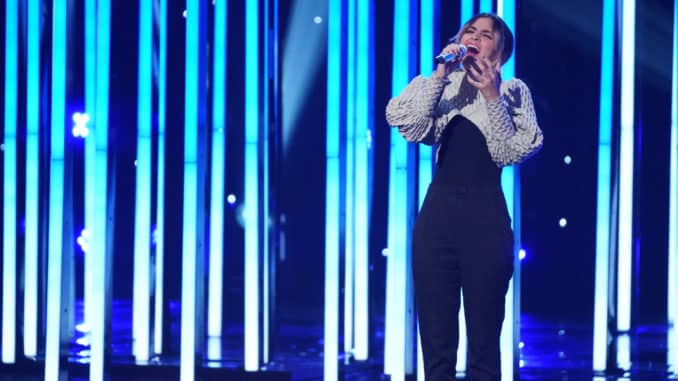 American Idol 2021 Hollywood Week: Andrea Valles has the vocals but needs to bring the fire
To recap her American Idol audition a bit (watch HERE), Andrea Valles auditioned with Fleetwood Mac's "Landslide" and Judge Katy Perry didn't see enough star power in her. She was a bit skeptical. Andrea then fought for a spot on the show with a solid and memorable vocal of the pop hit "Dance Monkey" by Tones and I. She got 3 yeses despite the criticism from Katy.
The 23-year-old wedding singer from Houston, Texas shined in Hollywood with a singing competition staple, Sam Smith's "Lay Me Down." Competing in Genre Week on the highly competitive pop genre line, Andrea didn't miss a note. Her voice was more powerful than the last time we saw her. I still feel like she may be holding back. Her tone doesn't stand out to me. Andrea might be able to break out a little Spanish later in the show and wow us all, however. Katy enjoyed it this time gushing, "Sweetheart the mic is the wand and she is now the magician".
Valles made my preview of the season as a past singing show contestant. I noted there that she competed on La Banda and Reina de la Canción. Watch Andrea and her band wow on La Banda with a group performance of "Just Give Me A Reason" HERE.  
Also, watch Andrea perform "Como La Flor" by Selena with her wedding band, the Drywater Band HERE. It is gorgeous. She navigates the song well and doesn't miss a note.
I also want to see more spunk from Andrea as she has the ability to be fun like a popstar should be. When looking at clips of Andrea, this one stood out to me; her cover of Dua Lipa's "Levitating" HERE.  This was taped around the time of her audition I believe. I think instead of singing all of these belty ballads, Andrea needs to find songs with some rhythm that show off her great stage presence.
Check out her Tik Tok and Instagram.
American Idol 2021 Hollywood Week: Andrea Valles sings Sam Smith's "Lay Me Down"
American Idol 2021 Hollywood Week: Andrea Valles sings Sam Smith's "Lay Me Down"