Think back WAY BACK to February of 2020. Remember American Idol contestants Kat Luna and Alex Garrido? They auditioned as a couple in season 18. At the time, the two were so utterly devoted to one another. Luke Bryan wondered if they were real, while Katy Perry loudly fake cried. 
So it should come as no surprise, that the couple are now engaged. Alex proposed at the Sound Emporium where the two recorded an EP, People reports.
Alex got family together for the surprise proposal
"I pondered a lot about when would be the right time to propose to Kat," Alex said. He explained that the two traveled to Miami where their families live to shoot a music video. That's when he dreamed up the idea of bringing their relatives back with them to help them move into their new apartment in Nashville. He planned to record an "acoustic version" of their track "Make Me Make You." That's when he asked the question.
"Kat and I performed the song in the live room and during the bridge of the song I dropped down on one knee and popped the question in front of our family and friends," Alex said. "I told her how much I loved her and how I want to always be the best man that I can be for her."
At first Kat thought it was a prank. But once she realized "it was all very real," she started to cry.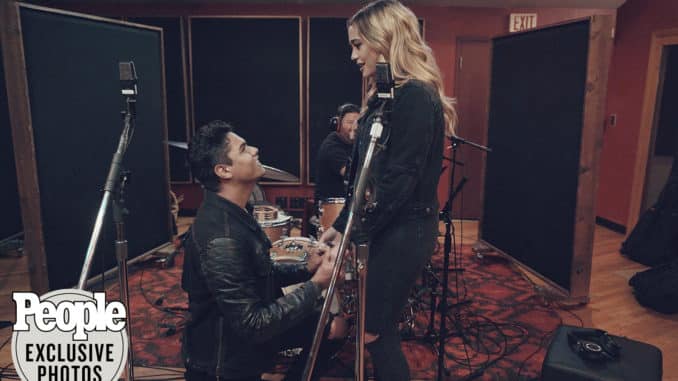 "It was a powerful moment proposing in the same room where our careers in Nashville started," he added. "Not to mention some of our favorite musicians performed in that same room like John Mayer and Chris Stapleton. "
Alex got the ring of my dreams, said Kat
Kat is said:  "When Alex got down on one knee and I saw the ring I couldn't believe that he got the ring of my dreams. It is exactly what I wanted down to the little diamond halo underneath."
"I am most excited about getting to spend the rest of my life with the man of my dreams and getting to travel the world inspiring others with the one I love," she added.
"Being able to marry my best friend is a dream come true," Alex said. "I cannot wait to continue to make unforgettable memories with her and travel all over telling everyone our story."
Alex called himself 'Space Cowboy' at the Idol audition
For those who need a refresher, here is the couple singing "Shallow" for their audition in front of the judges. At the time, Alex called himself "Space Cowboy." It seems that he took Luke's suggestion to knock it off.
On American Idol, Kat and Alex were separated after performing Lauren Daigle's "You Say" in Hollywood. Alex was eliminated, while Kat continued to the third round as a soloist.
"Since American Idol, our love for music and one another has continued to grow stronger," Kat told People. "After getting off the show, we started writing more songs together."
Kat and Alex have a publishing deal and a debut EP
The duo has since signed a publishing deal and has recorded its first EP. They also dropped their debut single "How Many Times" this year — and a Spanish version earlier this month.