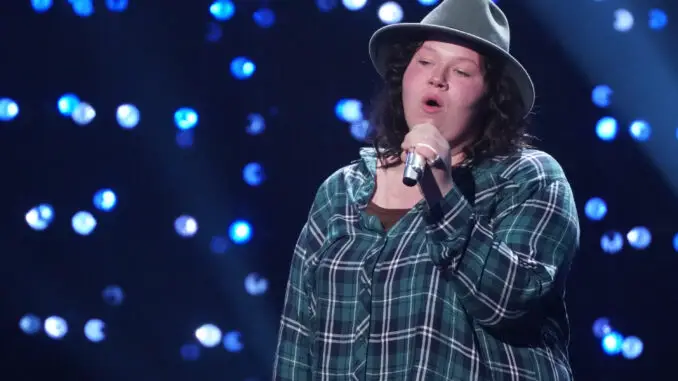 American Idol 2022 contestant Kelsie Dolin made a big announcement on social media this week. She is expecting a baby boy. She wrote on Instagram "Y'all!! I've been keeping a little secret.. I'm having a baby and, It's a…. BOY!!! Can't wait to meet baby carter!!! August 8th!!: She posted the message alongside photos of the baby's sonogram and her baby bump.
She received congratulations from several of her fellow American Idol contestants, including HunterGirl who wrote. "Congratulations!!" Kaylin Roberson added, "Ahhhh so exciting Kelsie!" Sam Moss posted "Been wondering about you. Awe your boy gets the sweetest mama! Welcome to the cool mom club." Sarah Beth Taite wrote "Congrats Kelsie!!!"
 

 

 

View this post on Instagram

 

 
Kelsie's Idol journey has been about finding confidence in her voice
Kelsie auditioned in front of judges Lionel Richie, Katy Perry and Luke Bryan with a cover of Kelly Clarkson's "Piece by Piece" and Adele's "When We Were Young." The singer comes from Boone County, West Virginia which she described on the show as "the boondocks" adding "there ain't nothin' there." Her grandparents raised her, after her sister was born addicted to opiates. Her grandmother recently passed away from Covid, and always wanted her to do something with her voice. Her grandfather is in a wheelchair.
Kelsie's Idol journey has been about finding confidence in her voice. She confessed that she's never performed in front of people before. When she
 after an encouraging pep talk from mentor, season 10 alum Lauren Alaina, her hand was visibly shaking. But she did settle down and perform Lainey Wilson's "Things a Man Oughta Know" well enough to advance to the Duets Challenge.
"Music has been my outlet," Kelsie said in her Genre Challenge video package. Back home, Kelsie will make an appearance to meet and greet fans at Midtown Grocery & Deli, a grocery store in West Virginia on Saturday, April 2 at 6:30 pm.