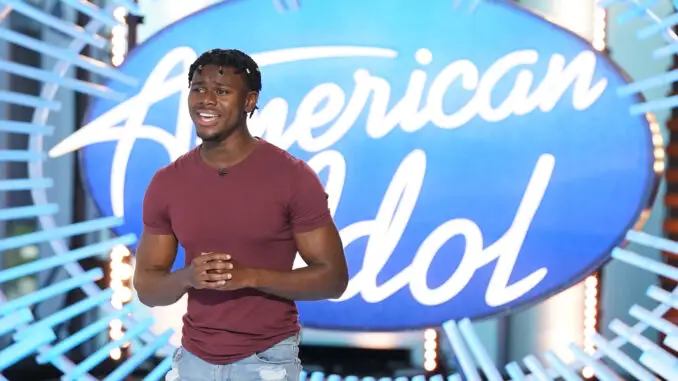 American Idol Audition: Final Platinum Ticket is Signed, Sealed Delivered to Jay Copeland
Last night, I said that Jacob Moran is the best male vocalist this season, but now he has some competition in Salisbury, Maryland's Jay Copeland from the final audition episode of American Idol season 20. The twenty-three year old single nabbed the final Platinum Ticket in Austin. (Read our Recap)
Jay gave up a fellowship for American Idol
The singer explains prior to his audition that he graduated from college two years ago with a major in music, and was in grad school for acting. Unfortunately, the school gave him an ultimatum to choose between Idol and graduate studies. He chose Idol, dropping out of school and forfeiting a fellowship. It's been a struggle, but he is here for his big break.
For his audition, Jay sings the Stevie Wonder classic, "Signed, Sealed, Delivered." It starts with soaring high notes, displaying a crazy impressive range with a beautiful falsetto. Jay has great vocal chops and power. Although he sings at full force a lot of the time, his vocal choices make it a dynamic performance that has layers and layers of different textures. It's a very interesting listen for a song that competition singers have covered a lot. It's without a doubt, one of the best auditions of the season.
The judges give Jay a standing ovation with Lionel Richie exclaiming, "Absolutely!". Katy Perry says, "they don't need you, we need you." And Luke Bryan jokingly notes that "finally someone has as many teeth as Lionel Richie." Lionel adds that "you don't just jump onto a Stevie Wonder song." But nevertheless feels that Jay "owned it" and is a "natural" with talent that is "off the chain." Luke agrees saying that he will "be able to electrify a crowd" and that he is "perfect." Katy exclaims, "finally a competition" and then explains that the platinum ticket which he is awarded will allow him to skip a round of Hollywood week.
Jay joins HunterGirl and Kenedi Anderson as a Platinum Ticket holder
Coming up, Jay should choose more relevant song choices. It is clear he is a great singer, but this overdone song choice made his style slightly dated. Other than that, Jay executed all the bells and whistles well. Jay is one of the best technical singers this season. He's a natural and his stage presence shows promise as well. Another well-deserved platinum ticket, joining country standout HunterGirl in Nashville and future popstar Kenedi Anderson from Los Angeles.
Night 5 standouts other than Jay were Emyrson Flora who was raw but sported a gorgeous tone, Skyler Maxey-Wert who had a very sophisticated sound, and Kaylin Roberson who sounded ready for country radio. Sir Blayke was almost in that group as I loved his cover of "Dive." But something was missing in his original song. Honorable mention goes to Morgan Gruber for her interesting tone and potential.
This wraps up auditions. I am excited to see what the post-Oscars surprise audition episode entails. It airs after the local news next Sunday night at 11:35.