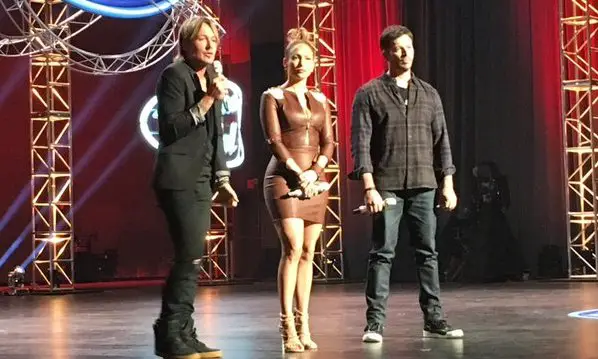 The New York magazine Vulture blog spoke with a few American Idol alums regarding their experience on the iconic show, which has just begun it's 15th and final season.
The quotes are grouped into sections. The most telling bits for me were the quotes in the section devoted to what happens after the confetti flies. The contestants learned a lot while on the show, but not nearly enough, it seems, to swim the shark infested waters of the music business. The overriding theme here seems to be contracts and understanding exactly what you're signing up for.
Jessica Sanchez (season 11 runner-up): You want it so bad in the beginning and you'll sign whatever, and then the show is over and you're in this contract. I think that's where people get confused sometimes. But you just got to push through all that legal stuff.
Justin Guarini (season 1 runner-up): On the show, you're so well taken care of. You have a huge team of people around you all working for the same goal. When you come off the show, either you're the winner, and that team continues to do what it can to create success for you, or you have to rely on your own experience.
Taylor Hicks (season 5 winner): The winner and the runner-up are locked into record contracts and managerial contracts. You need to utilize your time reading how to be successful in the music business.
Fantasia Barrino (season 3 winner): Coming from a show like American Idol, you have to prove to the world that you are a real artist, not just a part of a show. But sometimes if you try and go in a different musical direction than what people saw, it can fail.
Pia Toscano: (season 10 finalist): As the years went with that show, it became a little more about the show and less about buying the records. And Interscope — I don't know if they put as much marketing behind us as they should have to make sure we were successful. I think they just assumed that all those viewers are going to translate into record sales, and it's not like that.
Kris Allen (season 8 winner): When you get off the show, you expect to be given a lot, and man, you're not. Did I have problems with the label? Yes. I mean, you are given a record deal, a management contract, and all this kind of stuff, but it's a lot that you have to work for. I was so green.
For more, including who the contestants think deserved to win, but didn't (Aw. Both Kris Allen and season 10 winner, Scotty McCreery named-checked their runners-up, Adam Lambert and Lauren Alaina.) check out Vulture.com