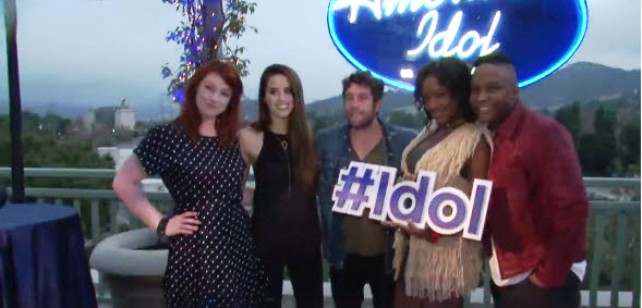 The American Idol 15 showcase round took place back in December. After the Top 51 performed at the Dolby Theater and the Top 24 were chosen, KIIS FM held a listening party for media and radio people, featuring the Top 24 reprising their Showcase songs. Also in attendance were a slew of alums from prior seasons.
In the below video, the former Idolettes attending the KIIS party share their feelings about the latest…and last crop of American Idol semi-finalists. Check out what Angie Miller (S12), Allison Iraheta (S8), Brandon Rogers (S6), Rayvon Owen (S14), Didi Benami (S9) and Daniel Seavey (S14) have to say.
I also spy Elliott Yamin (S5) and Adana Duru (S14) in the bunch.
https://www.facebook.com/AmericanIdol/videos/vb.123984435600/10156612495015601/?type=2&theater
Break out the Dramamine! It's another one of those  tech-fancy 360 degree videos. Ryan Seacrest asks the Top 24 rapid fire questions, while the camera pans the room. The rub: In order for the camera to pan, YOU have to click and drag the screen.
The semi-finalists answer a variety of questions like: Who is your favorite musical artist? What is your guilty pleasure? What is your favorite movie? Who is your all time favorite Idol? Guess who answers, "William Hung"? Heh.
https://www.facebook.com/AmericanIdol/videos/vb.123984435600/10156601258460601/?type=2&theater