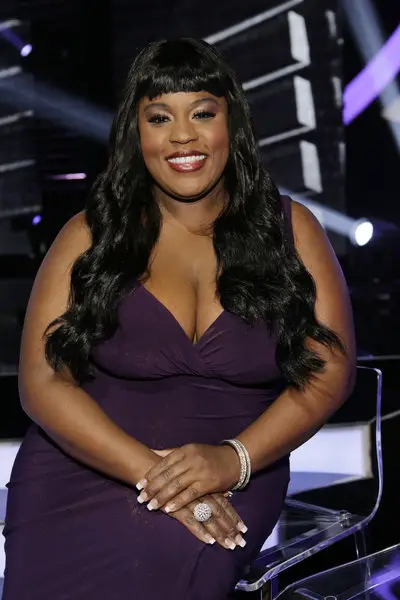 Kellie Pickler (DWTS winner), Jon Peter Lewis and Colton Swon (The Voice) are a few American Idol alums who have shown up as competitors on other competitive reality shows lately.
Now we have season 6 alum, Lakisha Jones who tweeted excitedly this morning about a TV show she'll be competing on, "Good Morning …..friends, family and fans! I finally got the GREEN LIGHT to let a little secret out……I will be appearing on a new show on NBC called THE WINNER IS!!! The show previews on JUNE 10th. So excited! Back where you first saw me on TV! lol…. Can't say much more at this time, let's just say it starts with bang!! I'll be tweeting live during the show so let me know what you think :)"
A description of the The Winner Is From NBC:
"The Winner Is" is the only show where singing six songs can win you a $1 million. A first of its kind, "The Winner Is" infuses the performance of a singing competition show and the strategy of a game show into one thrilling series. Average people of all ages and vocal styles have the opportunity to turn their singing abilities into cold hard cash, but first they have to put their mouth where our money is. "The Winner Is" is not about fame or a recording contract — it's about everyday people looking for the opportunity to win a million dollars and make their dreams come true.

Hosted by Nick Lachey, each episode features six acts that go head to head each week and sing with everything they have for a shot at a million-dollar grand prize. The aim of the game is simple; contestants must believe in their own performance, edge out their competition and avoid cash temptations to move forward. Each episode consists of three rounds. In the first round, the contestants are offered $10,000 to leave the game, $25,000 in round two, and $50,000 in round three. Resisting these offers and winning over the audience is the only way to win a spot in the finale, where the offers rise dramatically and lead two lucky acts to a final showdown worth $1,000,000.

After each head-to-head matchup, a jury of 101 music lovers vote live on who they feel gave the better performance in the duel. The two vote tallies are revealed on stage, but those results are not immediately revealed. This is where the negotiations begin. The contestants only have a short amount of time to decide whether to take the cash or risk it all to stay in the game and be one step closer to the $1 million grand prize. If they feel they have been out-performed, they should accept the cash offer and leave the game. But if they have the guts, they bet on themselves and stay in the game.
As you can see, the new summer singing competition is strictly a game show for cash. To be honest, I've seen the previews for this and have been hoping to avoid it. It looks pretty cheesy. But no such luck now that an Idol alum is involved!
In this preview clip, LaKisha sings "Lady Marmalade" against a male opera singer who performs "Nessun Dorma." Talk about comparing apples to oranges! At the end of their performances, host Nick Lachey asks them both if they won the round per voting audience members. Both are confident they aced the round. That's where the action ends. Both could have walked away with $10,000 if they admitted defeat.
Guess we'll have to tune in to find out if Lakisha moves on…
The show previews on June 10 and 17. The series premieres on July 11.