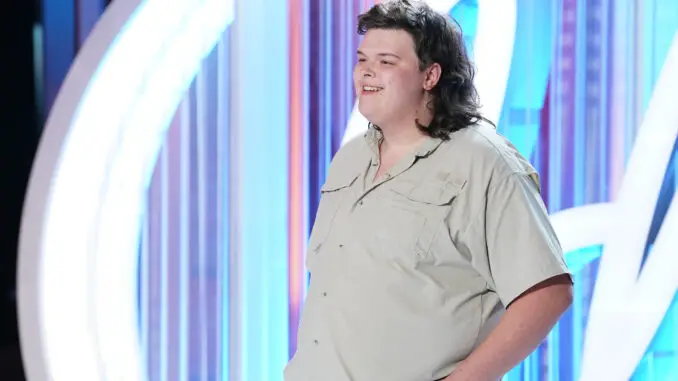 American Idol 2023: Katy Perry Pleads For Change After School Shooting Survivor Trey Louis Auditions
American Idol season 21 auditions served up nostalgia, some international talent, and a few emotional stories. The talent fell a bit short of the premiere, but the episode ended in a timely and emotional story. (Read our Recap)
Trey Lemley who goes by Trey Louis (or Trey From The Fe), is a 21-singer from Santa Fe, Texas. He is a mattress salesman who joked with the judges about his job before launching into a rendition of "Stone" by southern rock band, Whiskey Myers.
Judge Lionel Richie exclaimed, "I love him" after the first line. Trey's style sounds a lot like the gritty soulful country that characterizes Chris Stapleton's style. His range is capable of even more, based on pre-show research I've done, but this audition displayed his raw talent. He poured his heart and soul into the audition, with a tone made for selling country records. It is quite versatile too as it could tackle some old school rock and blues numbers with the nice rasp it has.
The judges gave him a standing ovation, and he humbly responded, "you better sit down." Luke Bryan said "you were singing from the perfect spot" before comparing him to Chris Stapleton as I did. Luke asks why he auditioned, and he noted that people he has followed before have ended up on the show.
But then he revealed that in May of 2018, he survived a school shooting at Santa Fe high school. He told how the gunman shot up art room 2 while he was in art room 1. He told the judges, "Eight students were killed. Two teachers were killed. It's just really been really negative. Man. Santa Fe has had a bad rap since 2018." Luke thinks that Trey sings "from the right spot."
"Our country has failed us, this is not OK"
Katy Perry broke down, crying emotionally, before yelling that "our country has failed us! This is not okay. You should be singing here because you love music. Not because you had to go through that." She pleaded for change as Trey agreed with her. Her fellow judges comforted her after she noted how scared she is. "We have tolerated this for so long. Too long. It's become a norm," said Lionel. The judges give him 3 yeses and end the audition with some comfort and happiness, sending Trey to Hollywood as he hugs the judges.
School shootings have become too normal. It's unfortunate that we have to hear emotional stories like Trey's. The singer has persevered after what he had to go through. One of the best singers of the night, his talent shined through. It will be exciting to see his journey unfold in Hollywood.
The other standout of the night was Georgian powerhouse Nutsa. Honorable mentions go to theatrical platinum ticket recipient and army daughter, Kaylin Hedges and soulful platinum ticket nominee Matt Wilson.