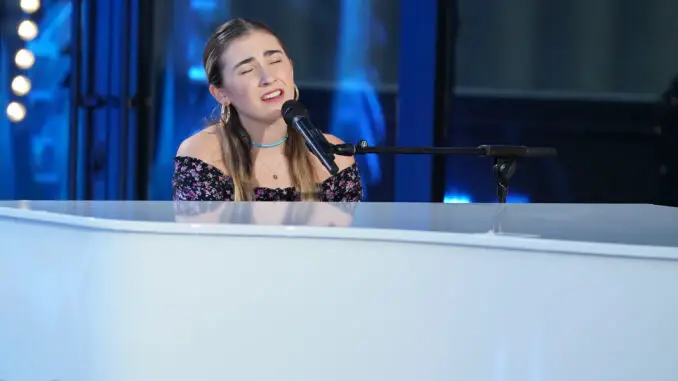 I'm still enjoying the season 20 American Idol auditions. More than I did in previous years. That doesn't mean I think the singers are more talented. I don't pick favorites until later in the season. It's that, despite the continuation of sobby, sob stories, over all I'm liking the way the auditions are framed.
American Idol 2022 Recap: Season 20 Auditions 2 (Video)
My favorites this week are: Leah Marlene (watch her audition), Lady K and Allegra Miles with an honorable mention going out to Kenedi Anderson. I understand why the judges went so crazy for her. She is both stunningly beautiful AND talented vocally. She's got a pop radio ready voice with a lovely tone and great range. There is a good chance she will get signed to a record deal one way or another.
It must have been hard for young singer Skylie Thompson to watch a mediocre singer like Luke Taylor  and his weirdly deep voice sail through to Hollywood. However, his performance on the FOX gameshow, I Can See Your Voice last fall WAS better than his Idol audition. Plus, producers were probably counting on his "fun" personality to add some color at the Dolby. Skylie's audition was better than Luke's. But in her case, she could probably use another year to improve her vocals and also gain more confidence. 
Despite the judges gushing over Allegra Miles, her audition was barely shown. Maybe she had no backstory, some suggested. When she appeared on The Voice on Season 18, the Caribbean had just been hit with a massive hurricane, and her family had to leave their home on St. Johns Virgin Islands. Regardless, Idol spent a good amount of time mocking Aaron Westberry's goofy demeanor. There is always an angle. Just gotta look for it. 
VOTE for your favorite performance and GRADE the episode
Favorite Auditions 2 Performance
Grade the Episode