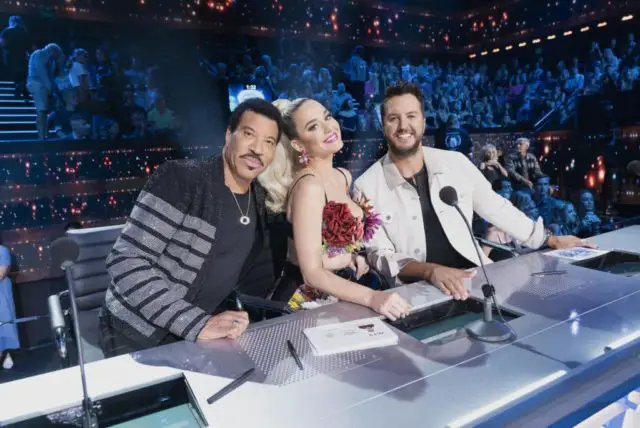 UPDATE: Although it has been reported Ryan Seacrest signed a multi-year contract to host American Idol, reports say his return has not been confirmed. He was not mentioned at all in ABC's official press release.
ABC has confirmed that Katy Perry, Luke Bryan and Lionel Richie WILL return to judge American Idol when it returns to the airwaves spring 2020. Bobby Bones will once again serve as in-house mentor.
As previously announced, American Idol will continue to help young singers realize their dreams with an all-new season premiering spring 2020. Returning to help find the next singing sensation are music industry legends and all-star judges Luke Bryan, Katy Perry and Lionel Richie. Multimedia personality Bobby Bones will return as in-house mentor.
American Idol 2020: Hopeful Singers Audition in Brooklyn
American Idol 2020 Audition Schedule! Everything You Need to Know
"American Idol is the original music competition series," said Karey Burke, president, ABC Entertainment. "It was the first of its kind to take everyday singers and catapult them into superstardom, launching the careers of so many amazing artists. We couldn't be more excited for Katy, Luke, Lionel and Bobby to continue in their roles as American Idol searches for the next great music star, with more live episodes and exciting, new creative elements coming this season."
"We are delighted to have our judges Katy, Luke and Lionel as well as in-house mentor Bobby back on American Idol," said executive producer and showrunner Trish Kinane. "They are all credible, hugely successful artists and will bring their expertise, passion and energy to the search for America's next superstar. They have an undeniable chemistry together making for another fun and exciting season!"
"We are thrilled to have all our judges and Bobby returning for a third season of 'American Idol' on ABC," said Eli Holzman, CEO of Industrial Media, the parent company of 19 Entertainment. "Our partners at Fremantle and ABC are delivering our fans some of the best Idol seasons ever produced, and Katy, Luke and Lionel are inspiring and molding some of the greatest musical talent this show – or any other for that matter – has ever seen. We cannot wait to be introduced to the next crop of stars and we cannot wait to see who will be the next American Idol."
Ever since American Idol was renewed for a 3rd season on ABC last spring, there has been speculation about whether the trio would return to judge. While host Ryan Seacrest's return was announced immediately understood to be under a long term contract, there was no word whether the Katy, Lionel and Luke would return.
While the network said they hoped to bring the trio back, they mostly kept mum about negotiations with the network. However, Lionel did declare that that he would not return to the show without his partners in crime, Katy and Luke.
Of course, major speculation centered on Katy's $25 million dollar payday. Did ABC negotiate lower salaries with the judges? While American Idol garnered respectable ratings last season, the show IS expensive to produce and there has been chatter around cutting costs even further. 
Personally, I didn't care if they trio came or went. I'd rather see the judges replaced with cheaper talent than cutting corners on the show's production values. However, the news that there will be more live shows is welcome. Even a week or two more of live shows would be an improvement.