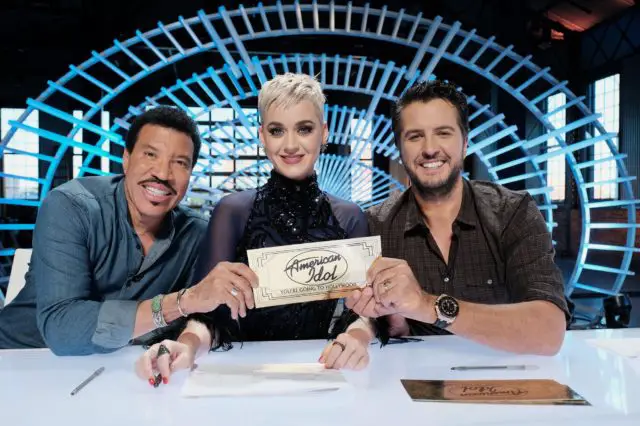 American Idol and its new network ABC have been putting a lot of effort into championing the talent on the show. It's certainly a way to differentiate themselves from the other show. Indeed, The Voice has been touting their coaches lineup, new Blind Audition twist and fancy new chairs.
On the other hand, American Idol has been pushing their contestants. From allowing America to vote for which on-the-edge contestant will land a golden ticket to Hollywood, to featuring the singers front and center in their promos, American Idol wants to remind viewers that IT'S ALL ABOUT THE TALENT.
(YES. We spent 25 million dollars to nab Katy Perry for the judges panel, meaning we had to pay Lionel Richie and Luke Bryan more. And it dominated headlines for weeks. So? Hush you!) Heh.
Judges panel gossip aside, I do appreciate the fact that the network and American Idol producers are trying hard to promote the talent. I don't know if the show will ever find a huge star again. But I don't agree with Katy that the show is wasting its time if they don't find a star. Which, by the way, is a thing I wish she hadn't said. These days, in the age of social media, it's difficult for talent shows to launch big stars.
Sure, it would be terrific if a newly-minted American Idol winner joined the starry ranks of big-name alums such as Kelly Clarkson, Carrie Underwood and Jennifer Hudson. But I think it's enough to produce a show that features talent in a way that gives viewers the opportunity to bond with and root for the contestants. Granted, the shortened season will make it a challenge to showcase the singers properly. But the producers seem to have their priorities in the right order.
For instance, in the past few weeks, American Idol social media and promos have been introducing contestants we'll be meeting on the show. Check out a few of the promos below. (Reminder to keep spoiler talk in the American Idol Top 24 Spoilers post!)
American Idol 2018 premieres on ABC Sunday March 11.
Meet Ron Bultongez. He's a refugee from the Congo and a father from Plano Texas.
Meet Maddie Zahm. She was diagnosed in high school with Polycystic Ovary Syndrome, which caused rapid weight gain.
Meet Garrett Jacobs. Seventeen year old whose real close to his grandma.
Meet Johnny White. At 7 years old, he was in foster care. Music was his therapy.
Meet Layla Spring. Her seven year old sister lends Layla moral support at her American Idol audition.
Lane Hardy likes fishing in the swamp and riding his truck.
Bonus videos!
American Idol – "This is a Journey Like No Other"
And, on Thursday (Feb 22) the American Idol cameras followed host Ryan Seacrest around on a typical work day. Bonus Scotty McCreery at the beginning of the video. (From American Idol's Instagram stories).