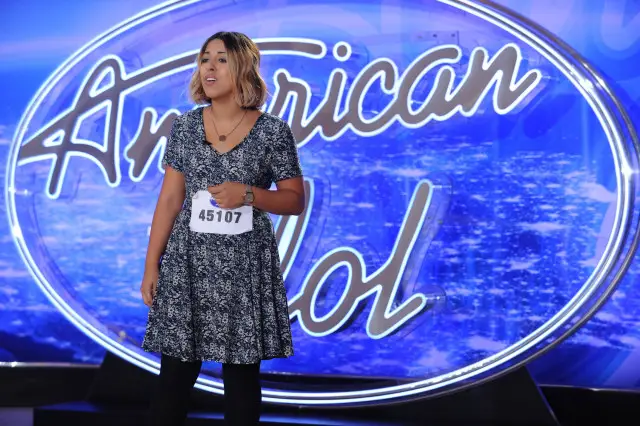 Sir Mac and MJ are back with the last of their weekly audition power lists. We pick our five favorite auditions of the week…and more.
MJ: I can't believe American Idol auditions are over forever. The three weeks of auditions yielded ups and downs, with the best singers coming from Little Rock and Philadelphia. Next, it's on to the last ever Hollywood week. Sniff.
MJ's Top 5 Picks
Jenna Renae – She Don't Love You by Eric Paslay – I wasn't very  impressed with this singer when she appeared on America's Got Talent in season 10, but she's really grown as an artist since then.  I like Jenna's warm, soulful sound and thought it was smart to flip a country song, "She Don't Love You," rather than sing straight up pop. – Audition
Adam Lasher – I was more impressed with Adam's season 14 audition, but understand why he'd want to change it up a bit this year, with a salsa rendition of "Knockin on Heaven's Door."  The new look, the optimistic attitude, the singer seems ready to compete. Adam could prove to be an interesting versatile contestant. I'm glad he's back. – Audition
Emily Brooke – Careless by Raelynn –Emily is another returnee who showed so much promise, but was cut before the Top 24. I wish they'd reject most of the young ones.  In Emily's case, though, her season 14 performances weren't as raw as, say, Daniel Seavey, a singer the judges DID advance. In any case, Emily is a terrific vocalist and seems to know who she is as an artist. – Audition
Jessica Cabral – Jessica's husky, expressive alto caught my attention right away.  The singer has a unique, immediately recognizable style.  A compelling vocalist, Jessica put her own stamp on Alicia's "Brand New Me." Let's see what else she can do. – Audition
Colette Lush – Collette has a big voice and a fun loving personality to match. She doesn't just belt a song–she's got great control and beautiful phrasing.  Her rendition of  "Who's Loving You," was pretty effortless. I'm not sure I'd put her at Carrie Underwood level great, but that clear, classic, rangy voice is impressive. – Audition
Should NOT have been advanced:
Brian Dale Brown – The dude butchers "Unchained Melody" and then is inexplicably given 3 yeses by the judges. WHAT? The guy didn't make it past the cattle call the TEN prior times he auditioned, for a reason. After Brian bellowed and growled his way through the performance, Harry called him a good singer? Maybe the producers are planning some sort of "Ultimate reject gets his last chance in Hollywood" arc. I don't know. Gina, that chick with the dog all 3 rejected, was a better singer. – Audition
Mac's Top 5 Picks
Despite her pitch issues, I'm still excited for Jenna Renae, but not enough to put her in the top 5. I was actually really surprised that Harry didn't ding her for her pitch issues, instead she got a pass. I also love that Adam Lasher came to PLAY this season. He cleaned up his look, he's ready for reality TV.
Mackenzie Bourg– Yes, absolutely yes. That's how you audition. He showed off what is likely going to be his strongest suit, which is reworking songs to suit him and fit his style. It has worked well in the past for David Cook and Kris Allen, and it could very well lead to another WGWG winner in Mackenzie. Yes, I think this kid can win. – Audition
Emily Brooke– I try not to just overlap all my people with MJ, but I couldn't leave Emily off. She's just so damn good. And, I think she's a contender now. She's the perfect example of "time", and how people get better with it. – Audition
Jessica Cabral– Also, can't leave off Jessica. Her tone? Her vocal range? That husky quality? Wow. Just wow. And she was on pitch the whole time. Loved it. Love her. – Audition
Chynna Sherrod– I love when people do something unexpected, and Chyna's acoustic take on an Ariana Grande song was exactly that. Unexpected. Loved it, and I think she's got a great personality that shines through no matter what. – Audition
Avalon Young– Another girl with lots of potential. The girls are slaying it this year. They really do want to find the next Kelly, don't they? Well, Avalon might just prove to be her, if she can keep up the strength of her audition. – Audition
MJ:  She's laid back and down to earth with a likable and appealing personality. Her taste in covers (Beyonce) is so cool. But I am not ready to embrace Avalon Young. I'm just not sold on her vocal ability.  Yes, she can sing, but I'm not hearing anything special. Not enough to put her in my top tier. Not yet.
Mac: Should NOT have been advanced:
Stephany Negrete– Too much. Overdone. With a season where there are so many excellent girls, I would have let Stephanie go. She butchered that song. I actually hated her audition more than I hated Brian Dale Brown's audition, which I thought initially was impossible. Spoiler: I'm literally SHOCKED at how far this girl actually makes it. – Audition
And instead of revoking a Golden Ticket, I'll give one away. SHOULD have advanced:
Mario Bonds– Did they really just cut the blind kid from Glee Project? Like, what in the holy hell? He's not even some random blind kid, he's from Glee Project. I'm sure a bunch of people are as confused as I was. Why did they target Mario like that? Why even bother showing his audition? Do they hate Glee Project? Do they hate blind kids? Yeah, that wasn't the best audition, but he's had better vocals on Glee Project, and I'm sure that was on his resume. At some point, you have to say to yourself "lets give him some constructive feedback and one more shot", and I think Mario deserved that chance. – Audition
MJ: Mario annoyed me SO MUCH on the Glee Project! Ha. I thought he was whiny and insufferable. But I hear you–they judges have certainly advanced weaker singers (See: Brian Dale Brown). I think Mario may have been sacrificed to the "See, we can make tough cuts!" Gods.
American Idol 15 Week 2 Power List: Top 5 Audition
American Idol 15 Week 1 Power List: Top 5 Audition