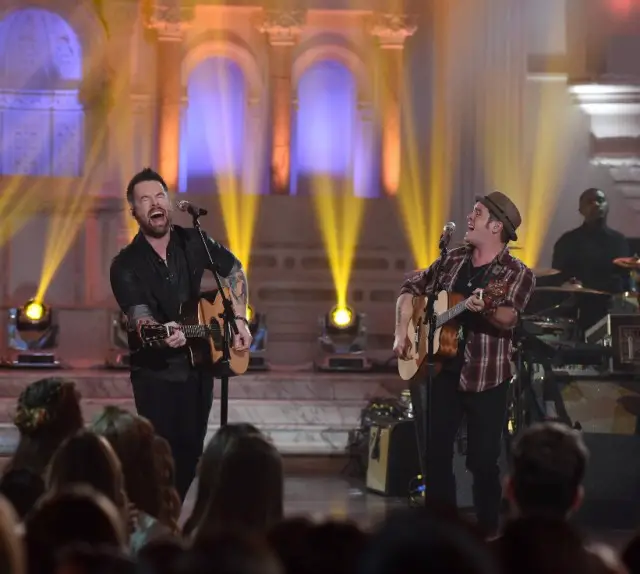 Check out these American Idol Star Duets which will be performed on Thursday Feb 18 on FOX. Just like last week, Six American Idol star alums will be paired up with 12 Top 24 contestants to sing songs either the Idol sang on the show, or made famous afterward!
This week, Chris Daughtry (S5), Constantine Maroulis (S4), Kellie Pickler (S5), David Cook (S7 winner), Haley Reinhart (S10) and Jordin Sparks (S6 winner) will be paired up with Lee Jean, Shelbie Z, Amelia Esenhauer, Manny Torres CJ Johnson, Adam Lasher, Tristan McIntosh, Kory Wheeler, Trent Harmon, Olivia Rox, Jenn Blosil and Dalton Rapattoni. FIVE contestants will be eliminated by the judges by the end of the night.
All 12 contestants will perform solo for the judges on Wednesday February 17.
For more complete spoilers, including eliminated contestants (both episodes were filmed last week) check out this spoiler thread.
UPDATE: ONE MORE! Kellie Pickler and Amelia
UPDATE: Kory gave his duet away when he tweeted a video of "Bennie and the Jets"
UPDATE: Jordin Sparks is singing "To Love Somebody" by the Bee Gees and "No Air" tonight according to Billboard.
UPDATE: I just heard from Extra PR that Haley Reinhart is singing "Can't Help Falling In Love" on Thursday. Not sure if it's solo or with a contestant.
UPDATE: Various song spoilers from American Idol, TVLine and @IdolSpoilers
UPDATE: I got a song spoiler for Amelia from an unnamed source.
Wednesday solos
Dalton Rapattoni – Rebel Yell by Billy Idol (reportedly correct)
Jenn Blosil – Sorry by Justin Bieber (reportedly correct)
Olivia Rox – Confident by Demi Lovato
Adam Lasher – Black and Gold by Sam Sparrow
Amelia Eisenhauer – Wake Me Up by Avicii
Idol Alum Duet Partners Pairings
Lee Jean with Chris Daughtry
Shelbie Z with Constantine Maroulis – Bohemian Rhapsody by Queen
Amelia Eisenhauer with Kellie Pickler – Suds in the Bucket by Sara Evans
Manny Torres with Jordin Sparks – No Air by Jordan Sparks
CJ Johnson with David Cook
Adam Lasher with Haley Reinhart Can't Help Falling In Love by Haley Reinhart (Elvis)
Tristan McIntosh with Kellie Pickler
Kory Wheeler with Haley Reinhart – Bennie & The Jets by Elton John
Trent Harmon with Jordin Sparks – To Love Somebody by The Bee Gees
Olivia Rox with David Cook – "Light On" by David Cook
Jenn Blosil with Constantine Maroulis – "My Funny Valentine"
Dalton Rapattoni with Chris Daughtry – "Higher Ground" by Stevie Wonder
Photo Gallery
30 second promo featuring David Cook and Daughtry's "Home"
https://youtu.be/-TcWdIuPlyk