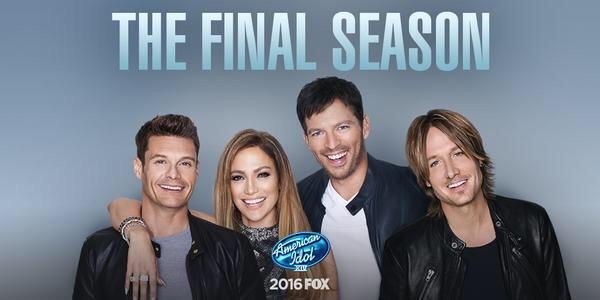 FOX released their 2015-2016 press package today, providing a glimpse into how the network is pitching the last season of American Idol. Note the alumni they namecheck–despite the recent legal wrangling, Idol is still pimping Phillip Phillips.  He's even mentioned in the same breath as Carrie Underwood and Kelly Clarkson. Several others are mentioned, but in a second tier of shoutouts. ETA: The incredible success of Phillip's coronation song, "Home" would make it difficult to pretend he doesn't exist. Let's see if he appears on the finale.
The network also formerly announces the return of Scott Borchetta as mentor.  The fifteenth and last season of American Idol is described as a "farewell celebration" that will pay tribute to to the "amazingly talented contestants" and the fans who voted their fingers off for their favs.
Here's the press release in full:
AMERICAN IDOL XV will bring generations together to cheer and vote for their favorite contestants and crown America's next singing sensation – one last time.

The original music show phenomenon, AMERICAN IDOL returns for its farewell – and 15th – season in January 2016. Featuring host Ryan Seacrest and judges Jennifer Lopez, Keith Urban and Harry Connick, Jr., the farewell celebration will pay tribute to the past 14 seasons, the amazingly talented contestants and the millions of fans who called, tweeted, texted and championed their IDOLS.
The audition journey will feature auditions from Denver, CO; Little Rock, AR; Philadelphia, PA; San Francisco, CA; and Atlanta, GA. Hopefuls from around the country will be given one last shot to sing for a ticket to Hollywood and become the final AMERICAN IDOL. Once again, Scott Borchetta, President and CEO of the Big Machine Label Group and one of the most successful forces in the music industry today, returns as mentor to help shape the career of the competition's winner.

IDOL is the gold standard and the only TV singing competition show to produce hit recording artists. From the first-ever IDOL winner, Kelly Clarkson, who continues to dominate the charts with three Grammy Awards under her belt; to Season Four winner Carrie Underwood, who has sold 15 million albums worldwide, with 16 No. 1 singles and five Grammy Awards; to Season 11 winner Phillip Phillips, whose debut single, "Home," has become the best-selling single of any IDOL to date, AMERICAN IDOL is a bona fide cultural phenomenon. Additional IDOL fan favorites include Academy Award winner Jennifer Hudson, Adam Lambert, Chris Daughtry, Kellie Pickler and Katharine McPhee, who have all become household names and made their marks on the recording industry.

IDOL's impact on the entertainment industry resonates beyond the scope of television. Over the past 13 seasons, IDOL finalists have released more than 200 albums, scored 449 No.1 Billboard hits, garnered more than 250 million iTunes downloads and have been certified with 95 Gold and 83 Platinum records. IDOL contestants have conquered Broadway, television and film and have won numerous awards and accolades, including American Country Music Awards, Country Music Awards, Grammy Awards and an Academy Award.
Executive producers listed are: Simon Fuller, Cecile Frot-Coutaz, Trish Kinane and David Hill. Hill, by the way, has been tapped to produce the Emmys.