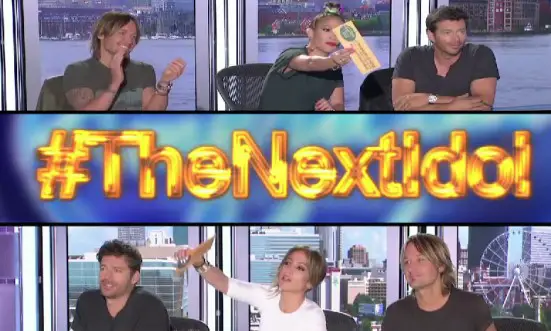 The American Idol auditions begin in a little over two weeks.  There are 5 big cattle call stops–in Minneapolis on June 18,  New Orleans on June 25, New York City on July 23, Nashville on July 30 and San Francisco on September 29.
But, there are several ways to audition, as the new American Idol 14 promo illustrates.
The small town bus tour will hit 10 cities, including Portland OR, Reno NV, Albuquerque NM, Amarillo, TX, Branson MO, Kansas City MO, Portland ME, Columbus OH, Richmond VA, Myrtle Beach FL and Tallahassee TN.
You can post a performance online and nominate an Idol at AmericanIdol.com.  And there are also several social media options. On twitter, Instagram, Google+ and Facebook, you can nominate a hopeful using the hashtag #TheNextidol.
The hopefuls who pass the test (including several auditions in front of producers) will have a chance for a callback in front of the celebrity judges, which will be Keith Urban, Jennifer Lopez and Harry Connick, Jr., as pictured in the the NEW American Idol 14 promo below.
A summer free of judges speculation. When was the last time that happened? Season 7?   Maybe Season 8. There was the "surprise" addition of Kara Dioguardi for Season 8. We didn't see that one coming. Then Paula Abdul quit before season 9, and it hasn't been the same since. (Jl0, Steven Tyler and Randy Jackson all came back for Season 11, but not without annoying will they or won't they press).