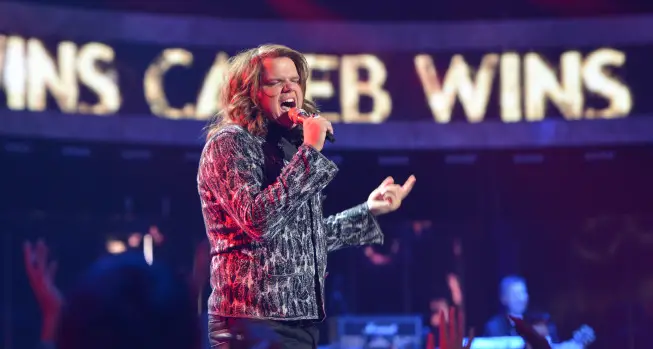 It's been a bumpy ride, but we are finally here! Who won American Idol 13? Caleb Johnson or Jena Irene? We'll have the answer to that question at the end of tonight's 2+ hour show!
I love you guys, but I never understood where the belief that Jena Irene would win Idol came from. Maybe that she sold more Itunes singles than Caleb? That's not saying much, as none of the finalists really sold that well. Anyway, the folks voting for Caleb may not know their way around a computer as well as the rest of us.
I have maintained all season (and even got into a friendly argument with a fellow pundit over it) that limiting votes wouldn't change the results. First, the votes weren't as limited as they could be.  Both DWTS and The Voice have a 10 vote limit vs Idol's 50. With several different ways to vote–a couple of phones, a bunch of Facebook accounts–hello power voting!  Most importantly–although there's no way to know for sure–I always suspected that the impact of power voting was overstated. I think the disconnect between the tastes of the Idol faithful and the general public points to the casual viewer having more influence than they are given credit for.
So my instincts were correct, and I wish they weren't.  Jena would have been a refreshing change in the type of Idol winners we usually get. She's young, hip and marketable. And she doesn't call her fans retards.
Speaking of which. Now that Caleb has WON idol, I wonder if Radaronline, National Enquirer or TMZ will dredge up the R word controversy…  And I wonder if anyone will care. I mean, in terms of caring about the comings and goings of an Idol winner. I expect tomorrow's rating to be dreadful.
Tonight's finale was entertaining. It's not the best finale ever, but not the worst either. The pace was good. It was nice to see the Idols duet with contemporary artists, rather than say, some moldy oldy like Tom Jones. I thought the judges performance was pretty terrific. Yes, they kinda ripped the idea off The Voice. But since the latter wouldn't even exist without Idol. TOUCHE.
The winning moment was full of tears and hugs. But how much more exciting would it have been if all trends had been bucked and the wild card rocker girl from the north had taken it all?
Maybe next year?
Probably not.
We begin with a flashback to the finalists reminiscing about their auditions IN THE BOX. It's how they enter the big stage. Cute. Very cute.
It's a Caleb Johnson/Jena Irene duet "We Will Rock You" by Queen and "I'm Just a Girl" by No Doubt. Jena enters through the audience with a bevy of colorful street dancers. They sing "It's Only Love" by Bryan Adams together. This is pretty damn hot. And this is all before the theme song plays!
Ryan Seacrest, handsome in a tux. The audience is FULL of American Idol alums. Here come the judges. What is Jlo wearing? She's a sparkly silver vision. Keith and Harry are super handsome in suits. Harry's in a bow tie.
Jena and Caleb take the stage again. Harry was on his feet! With the competition officially over, he can now stand up. And even smile and clap along!  Caleb and Jena are proud of each other. They don't care who wins! Don't they all say that? Ryan does his usual "Who is here for…" trolling for crowd reaction.
Sam Woolf and season 11 winner, Phillip Phillips perform a duet of his massive hit "Home." Sam sounds really really good, guitar in hand. Phillip should sound so good, to be honest. He sounded a bit off. Oh. We're just getting a snip of "Home." Phillip is singing his current single "Raging Fire." Sam is singing backups. No more lead? This isn't much of a duet. It's not a duet at all, actually.
We're back. Jennifer Nettles on stage singing "That Girl." Jessica joins Jennifer on stage to sing "Wrecking Ball" by Miley Cyrus. It's an odd choice. Why aren't they singing a song that's at least country flavored? This is a wasted opportunity.  So many better songs to sing. They sound pretty good together.  A little shaky here and there. They end the performance with a hug.
Here comes "world class mentor" (GAG) Randy Jackson, dressed in pink. As Ryan interviews him, they are inexplicably surrounded by chicks.  It's distracting away from the blah blah blah of Randy talking about how the Final 2 have grown. Cliche. Cliche. Cliche.  Maybe that's the point.
Harry and Keith join them on stage to introduce Jennifer Lopez performing her new single, "First Love."  This was taped last night, so….  Jlo is dressed barely there in cobalt blue. She be shaking that booty. There's a breakdown and Jlo declares that SHE WANTS TO DANCE! She jumps up on the judges table as her male dancers join her on stage.  BOOTYLISCIOUS. She ends, reminding us all, that she's still Jenny from the block. Alrighty, then.
Kiss and Caleb Johnson are next! Gah. Kiss. Who cares.  They sound kind of awful. Kiss was a joke then and they are even moreso now. Caleb is outsinging them. It's pretty sad. So much out of tune singing here. SO BAD.  I'm not going to get those last few minutes of my life back. It seems like Caleb had a lot of fun. That's what counts, right? Caleb's brother Huston, with the full face makeup, comes out to meet KISS. He's a big fan, apparently.
Now it's time to walk down memory lane. IN OTHER WORDS TIME FOR A CLIP.  Oh. American Idol gets the badlipreading treatment. This is mildly entertaining. You know, "funny" voices edited into Idol clips.
Next, Aloe Blacc and the Idol guys sing "I'm the Man."  Oy. There is lots and lots and lots of off key singing here. This is literally a trainwreck. Eep. Aloe sounds pretty awesome, though. It ends nicely, with a big audience singalong.
It's the Idols' last Ford commercial. It's all about tour riders? Jena wanted white kittens. But they\ best part? THEY GET BRAND NEW MUSTANGS HOORAY.  It's nice they are presented their cars by their fellow Idols. They act surprised, which is hilarious. The Idol Top 2 get new cars every year. Ryan awards Jena and Caleb with personal name tags for their new rides.
Next, they award cars to their mentors.  Jena's mentor is her choir director. Caleb's is his guitar player, Josh Sawyer.  They got invited to the Idol finale at their hometown visits. Ryan introduces them. Caleb and Jena award them both Ford Fusions. How nice.
Next, it's Demi Lovato performing "Really Don't Care." Then, the Top 13 girls join her on stage for "Neon Lights"  Jena and Demi trade a few lines. Majesty is super off key.  Oh. So is Emily (Memba her. Seems so long ago, doesn't it?).
Jena Irene and Paramore sing "Decode". Jena starts behind the piano.  She sounds fantastic! The crowd erupts in applause when she hits a high note. She gets up and introduces "my favorite band" Paramore.  There's Hayley Williams! They join forces to sing "Ain't it Fun."  WHY YES IT IS. A mass of  giant, bright yellow balloons fall from the sky. A choir joins them  on stage. THERE IS JOY ALL AROUND. Such a fun performance.  "Now Jena ain't it fun. NOW YOU'RE ONE OF US!" sings Haley. This has got to be a dream come true for Jena.
Next, John Legend begins his set with "You & I". Malaya Watson joins him on stage for "All of Me." Ohhh. It's got some shaky moments. But some really really beautiful moments too. This girl has potential for sure. And she looks absolutely beautiful.
Another clip. This one inserts a tux clad Ryan Seacrest into footage of the auditions, Hollywood Week, Top 30 etcetera. It's kind of clever.Gotta love technology.
Alex Preston his new friend, Jason Mraz join forces to sing "Love Someone." You can tell they actually rehearsed this. Their voices bland nicely. Jason is a VERY generous duet partner, considering they are performing a very new single. He's not shy about sharing the stage.
Here's Randy with Ryan Seacrest's family. WHY?  Apparently, his mom has convinced him to sing? No. This is a joke. OMG. WTF. He really is singing and really is terrible.  He introduces Richard Marx, who takes over "Right Here Waiting for You."  Oop. Ryan joins him for a duet. This is pretty goofy.  What an overthehill singer will do in order to pimp new music.
Next, it's a video clip that's all about the judges. Zzzzz.  My favorite thing about Idol this season has been the judges filler! NOOOOT. They need to stick to critiquing.
CJ Harris and Dexter Roberts perform with Darius Rucker. He begins the set with "One Heartbeat." Oh lord EVERYONE IS OFF PITCH.  And that's before CJ and Dexter take the stage to sing "Alright." CJ is pretty sharp as usual, but this could be worse.
Caleb and Jena harmonize a little on "I Need You Now" before they introduce Lady Antebellum performing "Bartender."  Yap.
Caleb and Jena's family join them on stage.  Ryan asks them really dumb questions like HOW ARE YOU FEELING. How does he think they're feeling? Geez. The answers are stock. We're so proud blah blah blah.
Now it's time for a POWERHOUSE PERFORMANCE from the judges. They sing "True Colors" and "Go Your Own Way."  Jennifer sings in this weird little girl voice.  She's sitting on Harry's piano while she attempts to channel Cyndi Lauper. Keith on guitar, sings harmony. Randy Jackson is on bass. The beat kicks up a notch. Harry  and Keith trade lines on "Go Your Own Way." All three harmonize on the chorus. Nice! Jennifer is like Davy Jones on tamborine. Twirling around like Stevie Nicks so her dress flounces.  KEITH IS KILLING IT ON GUITAR! That had a slow start, but it was solid!
It's time for the moment of truth. We are about to find out WHO won American Idol! They tell each other that they are "the bomb," before the Interscope guy delivers the results.
The winner of American Idol is…..CALEB JOHNSON.
WTF DID I TELL YOU GUYS I TOLD YOU I LAID OUT THE REASONS THIS IS HOW IT ALWAYS GOES DOWN AND WILL FOREVER MORE.
"We're going to be back on your screens early next year," says Ryan. Whatever the hell that means.
Caleb takes the stage to sing "As Long As You Love Me" and he literally doesn't get past the first note before he stops singing. He embraces his fellow Idols. Mascara is running down his face. He finally gets it together to sing. The confetti flies. Caleb wades his into the audience to greet his family. He's back on stage now.  THERE'S SO MUCH DAMN CONFETTI.  Randy presents him with his trophy. Where for art thou Candice Glover? Apparently getting ready to go to Europe. Hm. Well. That was anti-climatic. More confetti. And we're out.