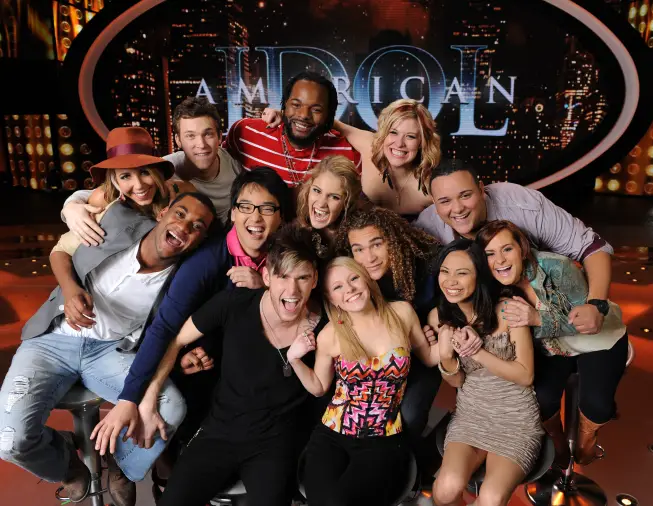 The American Idol finals begin! This week the Top 13 sing…songs from Stevie Wonder and Whitney Houston, with the girls singing Whitney and the boys crooning Stevie. Excuse me while I Zzzzzzz. Gah. Please Nigel, make the song themes more imaginative! Have you noticed that your competition is kinda killing you?
Anyhoo. As boring as this theme is, I will still attempt to choose songs for the Top 13! And it would be fab if y'all would do the same. Fun.
Boys – Stevie
Phillip Phillips  – "Higher Ground" –  Phil's gravelly vocals would be well suited to this gritty tune.
Heejun Han – "You Are The Sunshine of My Life" – Aw. Wouldn't this be sweet? Plus, it would give Heejun an opportunity to sing something upbeat.
Colton Dixon – "I Was Made To Love Her" – Colton could show a soulful side.
Deandre Brackensick  – "Overjoyed" or "Ribbon in the Sky" –  If Deandre uses his falsetto just right on either song, he'll score.
Jermaine Jones – "Lately" – This could be very moving if he nails the vocal.
Joshua Ledet – "Living For the City" –  Take us to church, Joshua.
Jeremy Rosado  – "For Once In My Life" – Jeremy can get all emotional
Girls – Whitney
Jessica Sanchez – One Moment in Time – Jessica can handle the big songs
Skylar Laine  – I Will Always Love You – A little too obvious? Maybe. But it would be nice to hear this song done country again.
Elise Testone – "Saving All My Love For You" –  Could fit Elise's bluesy style
Hollie Cavanaugh – "Didn't We Almost Have it All" – Hollie can also handle the big songs.
Erika Van Pelt – "I' m Your Baby Tonight – I can hear Erika's sexy alto on this one.
Shannon Magrane – "How Will I Know?" – A cute, young song for 15 year old Shannon.